Planning and collaboration platform for retail and brand marketers
Shopperations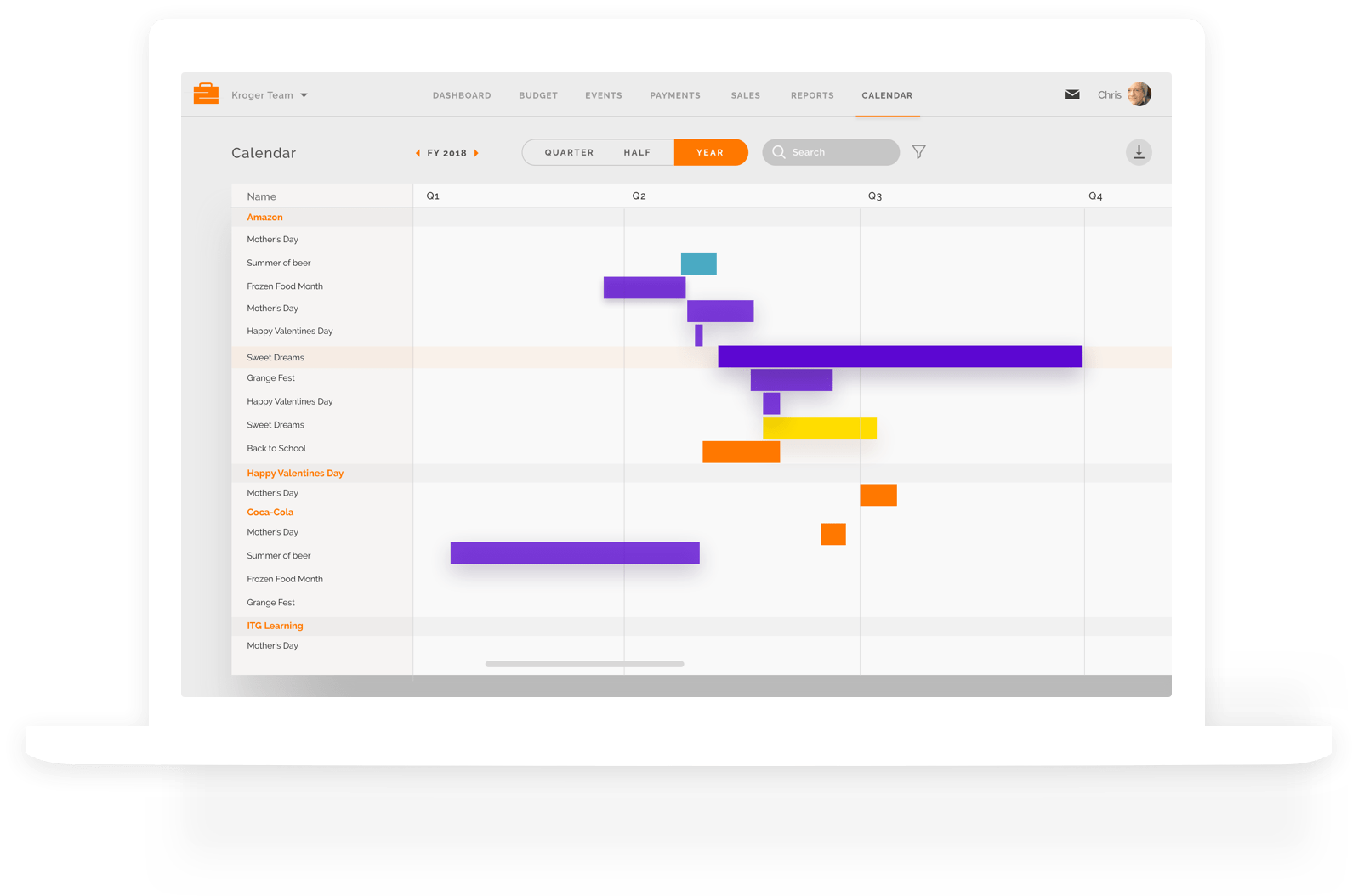 What we did:
Information architecture
Wireframes
Interaction design
Clickable prototype in InVision
Responsive screens
UI Kit
Collaboration with RubyGarage
Deliverables:
Information architecture charts and flow diagrams
Wireframes and mockups
Clickable prototype in InVision
UI Kit as a visual guideline for developers'
Background story
Shopperations is a unique product that helps shopper marketers work efficiently. UGEM's team was excited to take on the challenge of designing Shopperations. Shopperations was a demanding project, because going into it we knew nothing about the work of shopper marketers and their challenges.
Based on her experience, Olga Yurovski, the founder of Shopperations, decided to simplify business processes for shopper marketers. Therefore, the broad challenge UGEM's designers faced was designing Shopperations to help a unique user group – shopper marketers – be productive at their job.
Who's using Shopperations?
Shopperations' targets two primary audiences: companies with marketing departments and brand marketing agencies.
Even though some shopper marketers use proprietary software at their companies to report operating results, they still save most of their data in spreadsheets and regularly create PowerPoint presentations. In other words, current proprietary software doesn't reduce their 'paperwork.'
UX Research for Shopperations
Since we were designing a product that was the first of its kind, we had to gather a lot of information about its target audience. It was helpful that the founder of Shopperations is a representative of the target audience.
Olga has worked as a shopper marketer for a long time, so she had a lot to say about this occupation. Her insights saved us time on UX research. When Olga came to us, she already had a prototype and was ready to explain not only what features she needed as a marketer, but also how those features would be used.
Dashboard
The work of shopper marketer revolves around marketing events, so we attached an advanced calendar of upcoming events to the top of the Dashboard. With this calendar, marketers can see current and future events. Plus, marketers can monitor event statistics to keep track of marketing effectiveness.
Since events cost money, we also show statistics for spending as well as overall budget usage. These statistics help marketers trace unused budgets. Thus, shopper marketers are able to spend spare money on different events.
Budget
The Budget tab helps marketers shape budgets and assign budgets to respective marketing teams. Shopper marketers can view sums of allocated, spent, and reserved money. But it's not as simple as it sounds. Because companies allocate budgets to reach specific marketing goals, we added a number of fields to describe particular budgets in detail. We considered inline editing the best option for Shopperations, meaning marketers can enter and save data in the system effortlessly, just as they do in Excel files.
Calendar
A separate Calendar tab helps marketers follow event schedules.
We relied on colors to represent marketing event statuses as easily as possible. Specifically, green marks a finalized event; orange, an estimated event; red, a closed event; and so on. This visual information simplifies the interface while making it practical.
Supporting a flexible system of marketing periods was another interesting challenge for us. Since companies don't break their fiscal year by months, we designed a flexible system to let marketers adjust periods. With the Shopperations Calendar, companies can independently set up the start and end of their fiscal year according to their corporate schedule.
Shopperations
Planning and Collaboration Platform
What Shopperations Is Now
Shopperations is a great product for shopper marketers. We at UGEM were able to design a completely new web solution that helps shopper marketers work smarter.
Shopperations lets marketers be as specific as possible when defining a marketing event and tactics for an event. Shopper marketers can also work with multiple brands simultaneously. Put simply, with Shopperations marketers focus their attention on actual promotions, not reports and paperwork.
We're still working to improve Shopperations to create the best possible product. There's always room to improve, and the Shopperations UX and UI design will continue to be updated to meet the new demands of shopper marketers.
I was ultimately impressed by the quality delivered by the UX designer, so I decided that I wouldn't be shopping for alternative developers. Their UX designer was superb and took my product vision to a completely new level.
Olga Yurovski
Shopperations, CEO