Nearly 85% of patients are ready to extend their medical care online and explore new options. This number is quite large, so it's obvious that healthcare websites need smart, intuitive, and helpful designs. High competition, a huge amount of specific medical content, and heavy regulations make it hard for healthcare platforms to be successful. Despite these challenges, we know some solutions to help you stand out and provide the best user experience for your patients. This article shares healthcare UX design trends that will have a positive impact on any website or application. Enjoy!
Artificial intelligence and chatbots
A chatbot is an artificial intelligence (AI) program that simulates human conversation, allowing users to interact with devices verbally and in writing. Chatbots are an innovative form of online business communication, and the perks of using chatbots in healthcare are obvious. Chatbots allow users to have human-like discussions with AI doctors, therapists, or nurses which can save a lot of time on checking symptoms, scheduling appointments, and reminding patients to take their pills. Designing a chatbot for your medical website or app can significantly improve the overall user experience as well as the usability of your platform. Let's take a look at an example of a medical chatbot.
Florence is a personal health assistant powered by artificial intelligence. It includes a health tracker that helps users track their weight, steps, or period in the form of an infographic.
The Florence chatbot also allows users to find the nearest pharmacy or doctor's office.
Florence also has a medication reminder feature, which can be useful for elderly patients. All users need to do is tell Florence the name of a medication and how many times a day they have to take it. Florence will then send messages every time they need to take their pills.
Wearables
For the everyday user, smartwatches count steps, track sleep, and monitor heart rate and blood pressure. The popularity of wearables is increasing every year, and their functionalities will grow in number and become more sophisticated. Wearable devices usually work with companion applications, so a big UX challenge here is to minimize discomfort in switching between devices. In healthcare, wearable devices monitor vital signs in daily life or in a clinical environment.
HeartGuide is a blood pressure monitor in the form of a wristwatch. In tandem with its companion app, HeartAdvisor, HeartGuide allows users to track and manage their blood pressure. It monitors heart health by turning real-time heart data into heart knowledge, which is displayed in the app in the form of dashboards and graphics.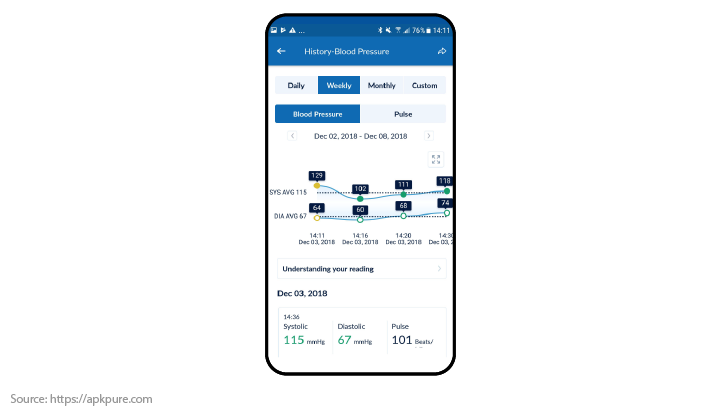 HeartAdvisor is designed to help patients have focused conversations with their doctors and access real-time heart health coaching.
Сonsumer-focused design and data visualization
Confusing designs leave users lost and wondering what to do next. While some users might get through the UI and find the functionality they're looking for anyway, the majority will look for a website or app with better usability. Using dashboards and infographics is one way to make your app accessible. Fitbit offers an excellent example of a simple and intuitive design that requires no explanation.
Fitbit uses simple data visualizations, namely icons and explanatory notes, along with a number of metrics to monitor your progress towards daily health goals. Another great feature of Fitbit is that users can mix different metrics on the dashboard in the most convenient way. For example, if you're most concerned about your sleep and heart rate, you can drag those metrics to the top of your dashboard.
Actionable and informative reports
Have you ever not understood what exactly your doctor was talking about? Doctors often use medical jargon that's hard for patients to understand. A study published on Becker's Hospital Review shows that patients' misunderstanding commonly used medical terms results in anxiety and poor decision-making. You should be patient-centric and embrace the fact that patients don't have the same knowledge as medical professionals. Show your users complex information in easily digestible formats they can quickly make sense of without assistance. Let's take a look at a folate blood test report to see how this can be done.
This blood test report:
shows the level of folate in the patient's blood
includes an educational video explaining what folate is and why it matters
suggests a course of treatment;
Unlike most blood test reports, this dashboard makes the results simple to understand. For instance, an analysis dashboard displays the areas where the patient is at risk (red), needs work (yellow), and is in great shape (green). This is based not only on the blood test results but also on the patient's age, sex, and ethnicity. Each biomarker is associated with a body function: endurance, cognition, blood transfer, and cardiovascular health, to name a few. Even without any medical background, patients can understand the test results and make decisions about their health.
Voice user interface (VUI)
Digital healthcare doesn't only involve graphical user interfaces. Methods of human-computer communication are getting increasingly diverse. People are showing interest in voice user interfaces (VUIs) for a number of reasons. The benefits of VUIs in healthcare are obvious, as they do a fantastic job for patients with difficulty moving or with visual impairments. Besides, a VUI can be of use during any type of physical activity. Alexa is a great example of a VUI that users enjoy and find practical. Alexa can be built into devices, allowing users to just talk to them to get what they need.
VUIs can be used in:
Phones
Wearables
Stationary connected devices (desktop computers, wired networks, etc.)
Portable connected devices (laptops, tablets, etc.)
However, to make the user experience positive, you should keep in mind that feedback is crucial to a successful VUI. Feedback gives users confirmation that their words are being correctly processed by the device and lets them take corrective or affirmative actions. You can provide a few types of feedback:
Audio playback lets users check the accuracy of voice input.
Visual feedback is the most common for phones and is used by Google Assistant and Siri. It uses the intensity, duration, and pitch of sounds alongside colors and patterns.
Real-time text feedback appears on the screen as users speak.
Output text is another form of text feedback that appears on the screen after the user has finished speaking. 
Non-screen visual signs are simple responses in the form of LED lights or light patterns.
Telemedicine
Telemedicine is a relatively new concept; however, it's developing at lightning speed. Telemedicine can be described as the remote delivery of healthcare services through telecommunications infrastructure. It allows medical professionals to perform health consultations and diagnose and treat their patients without an in-person visit. 
If you intend to create a telemedicine app that will facilitate online health consultations, you need to design consultations to ensure smooth communication between patients and doctors in video chats. According to the Gomez report, 88% of users will be less likely to return to the site they have a bad experience with. Consequently, excellent usability is a must for your website or app.
The Doctor on Demand app has done a great job of offering convenient 24/7 patient-doctor chats in the US. First of all, the Doctor on Demand app is consistent across Android, iOS, and desktop. Second, it uses highly accurate geolocation information and lets users connect to physicians licensed in their state. Additionally, the app shows users a map of neighboring pharmacies before they start a conversation with their physician. This feature saves time and makes it convenient for users to pick up prescriptions. 
Conclusion
Applying at least one of these trends when designing your own medical application or website will help you improve the overall user experience and consequently build a product that will suit your customers' needs. Are you ready to design your own healthcare website or app following the juiciest trends? Get in touch with our UI/UX design studio and we'll help you realize your ideas!