Mobile UI and UX Design Trends to Rule in 2020
Statistics show that there are 3.5 billion smartphone users in the world. And smartphones are constantly changing. New technologies and functions come along with new UI and UX design solutions. What was relevant last year may no longer be necessary. To keep you up to speed on the latest changes, we've prepared an article with nine promising mobile UI and UX design trends of 2020. Enjoy!
1. Dark mode
Dark themes have been a trend for the last couple of years, and in 2020 they're still maintaining their ground. This line of design has already become familiar, as Apple and Google have made dark mode an integral part of their products.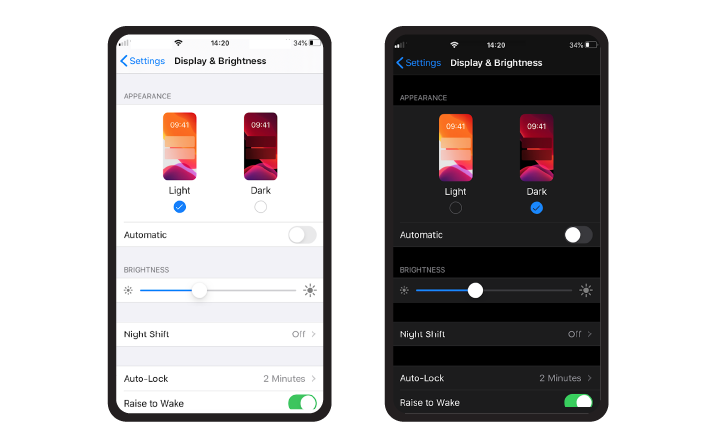 A dark theme is an alternative to what we're used to seeing in apps. The idea of dark mode is to put each element on a dark background. But when implementing dark mode, it's critical not to use pure black and white. High contrast and saturated designs may be painful for viewers. Dark gray and subdued tones are a better way to go. Dark mode is an excellent way to cut eye strain, especially in low-light environments. It also saves battery life.
2. Greater personalization
What approach can win users' favor better than individual attention? Personalization is one of the mobile UX design trends of 2020. The idea is to give your users what they want without asking them. It seems impossible, but with the appearance of Artificial Intelligence (AI) and personal data gathering, everything has changed. Personalized design solutions improve the user experience at all levels by giving users new ideas and desired content while simplifying their interactions with the app.
Let's take Apple Music as an example. It uses AI and analyzes user data to offer songs that users are likely to enjoy. Based on past activity and search inputs, Apple Music customizes users' content.
The Airbnb application also offers a personalized experience. When a user is traveling, the application automatically compiles a guidebook based on their location that offers the best restaurants, places to visit, and much more to help them stay entertained in an unfamiliar city.
3. Full-screen navigation
Five years ago, big smartphone displays were unusual and wild. But in 2020, they're common. And they've become a great tool in the hands of UX designers. Big screens provide a big surface to combine different types of functionality on one screen. Instead of designing different screens for different functions, it's now possible to put everything on one.
Big screens are determining the future for mobile UI and UX design. If you take a look at Tripadvisor, you can clearly see a change in the mobile experience over time. The Tripadvisor application from 2011 seems messier and less friendly than the app from 2020. Moreover, the information architecture, interface, and interactions have been changed to accomodate bigger screens.
4. Voice interactions
Voice interactions are no longer innovative, but they're only beginning to gain momentum. This trend is promising in 2020. Voice interactions fundamentally change the user's interaction with mobile devices. Instead of typing a message or entering a search query, users can do what they want with the help of voice. To make your music louder or quieter, just ask. Voice interaction is a step into the future, as virtual assistants like Siri and Alexa demonstrate.
5. Advanced animations
Animations and short videos have become an integral part of mobile app design. They keep users engaged and make interactions with the application more impressive. Animations can replace written content and make loading more friendly. But such a solution can be both entertaining and functional. With the help of animations, mobile applications give a lot of information to users. Сonfirmation of actions, state changes, and adding rhythm to interactions are all possible with advanced animations. And since mobile devices are becoming more powerful every year, designers are increasingly experimenting with animations. Check out these examples:
6. Gradient 2.0
Gradients have come back, and now it's time for gradient 2.0. Designers have again begun to actively use gradients to replace monochrome and faded colors. Gradients were used earlier, but gradient 2.0 is different. With the advent of new screen technologies, it's possible to use bright and vivid color combinations as an application background. Such an approach provides depth and simplicity. It also helps to create a warm effect and attract the user.
The Asana app greets new users with a bright animated gradient. This gives users a good first impression of the app and builds a great user experience.
7. Buttonless design
As more and more smartphones turn into frameless devices, the physical buttons disappear. This tendency is rapidly developing and will be relevant for a long time to come. But it has also influenced mobile app design, leading UX designers to replace all buttons with gestures.
An interface without buttons is definitely a step into the future. But if you look closely at this design solution, you need to be extremely careful. Due to its buttonless nature, all actions must be intuitive. To make your app as user-friendly as possible, you need to study your audience's behavior and predict their actions as well as Netflix does.
Apple iOS developers have done this by allowing users to delete text via the keyboard by shaking the device.
8. Augmented reality (AR) design
Although AR applications began a couple of years ago, in 2020, this trend is gaining popularity. Now, AR is not only part of the gaming industry but also mobile app development. With the help of new tools and technologies, it's easier to integrate AR into mobile applications. This technology can help users choose shoes, see how to get to their destinations in Google Earth, or preview furniture in their own homes using IKEA.
9. Passwordless design
Entering personal data is always a pain. This is especially true for applications where a payment system is involved and users are asked for sensitive information. This can be an obstacle, and users may simply refuse to enter data each time. Just as smartphone technologies don't stay in place, mobile UX design is also evolving. In 2020, the passwordless design trend has come to the rescue.
With the help of this approach, it's now possible to put personal data and passwords in mobile apps under the protection of fingerprints or Face ID. For example, if you log on to Facebook or Twitter once through your account, your passwords and data are saved in such a way that you can quickly log in with your fingerprint or Face ID in the future.
Conclusion
The overall tendencies in mobile UI and UX design closely follow the development of technologies and users' values. In this article, we've taken an in-depth look at mobile design trends. Remember that the mission of each design advance is to make users' lives better. When using the latest design trends, do it to provide value to users and create the best possible experience. Are you ready to create a mobile application according to the latest trends? Don't hesitate to contact the UGEM team. We'll be glad to help with the design.