A Health Insurance Platform
Welfaire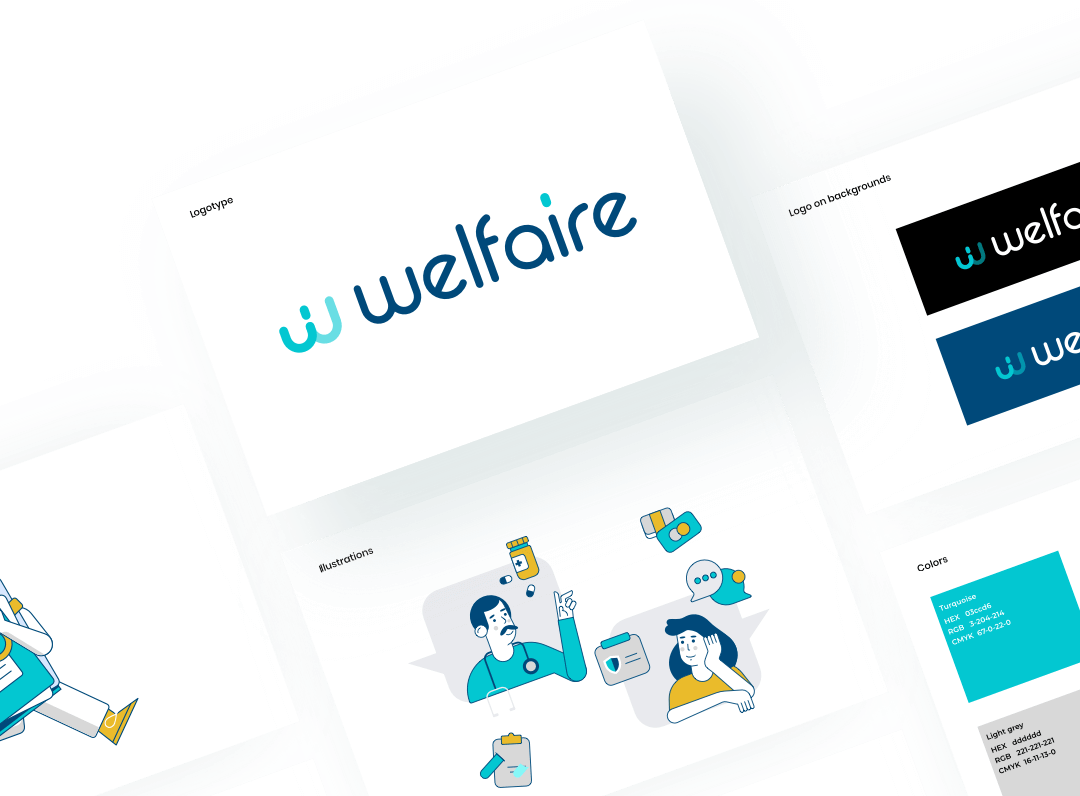 Overview
Welfaire is an online health insurance provider. Jérémie Herscovic, the founder of Welfaire, wanted to create an insurance company that not only covers customers' health-related spending but supports wellbeing by reminding customers to regularly visit doctors and undergo medical assessments.
Jérémie created a platform that provides users with prompt support in emergencies and helps them prevent health issues rather than just reimburse for money spent on treatment. What makes Welfaire so special is its pre-diagnosis approach to maintain customers' health.
UGEM worked with Jérémie to create a unique brand identity that fits the company's mission and makes the platform stand out from competitors.
Project Profile
Target audience
Brokers looking for an opportunity to easily sell insurance and sign contracts with buyers
Individuals, entrepreneurs, and small companies
seeking accessible insurance services
Branding objectives
When Jérémie Herscovic contacted our team, we defined the scope of work, project timeline, and most vital branding objectives. For this project, we needed to:
Create a brand identity that improves the platform's visibility, enhances the company's reputation, and attracts users
Design an identity that reflects the platform's values and conveys calmness and safety
Provide a brand book with instructions on the appropriate use of brand assets to ensure a consistent Welfaire style
How we worked on the project
Requirements elicitation
Our team collected requirements using a brand identity brief to provide our client with the best results. This brief aims at discovering a client's objectives, preferences, and dislikes so we know exactly how to satisfy their needs.
Mood board
Based on the brand identity brief, our illustrators created three mood boards using different color pallets, fonts, and illustration types. We discussed each concept in detail to help our client make an informed decision regarding the platform's style.
Concept development
Once the client had chosen the mood board, our team created three branding concepts to demonstrate what the client's branding could look like. All three concepts included the requirements mentioned in the brand identity brief and correlated with the chosen mood board.
Branding deliverables
To reach the project objectives, the UGEM team created the following artifacts:
A unique logo
The logo consists of a turquoise wave made of rounded rectangles and navy blue text based on the Nunito font.
The client wanted to convey his insurance company's main idea through the branding design made in the colors of the sea and ocean. These colors are often associated with stability, trust, and loyalty. That's why turquoise and navy blue became the basis of the Welfaire brand.

Illustrations
Illustrations depict lively characters who care for their health and the health of others. The colors we used for the illustrations aim to convey calmness and gain the trust of our client's target audience.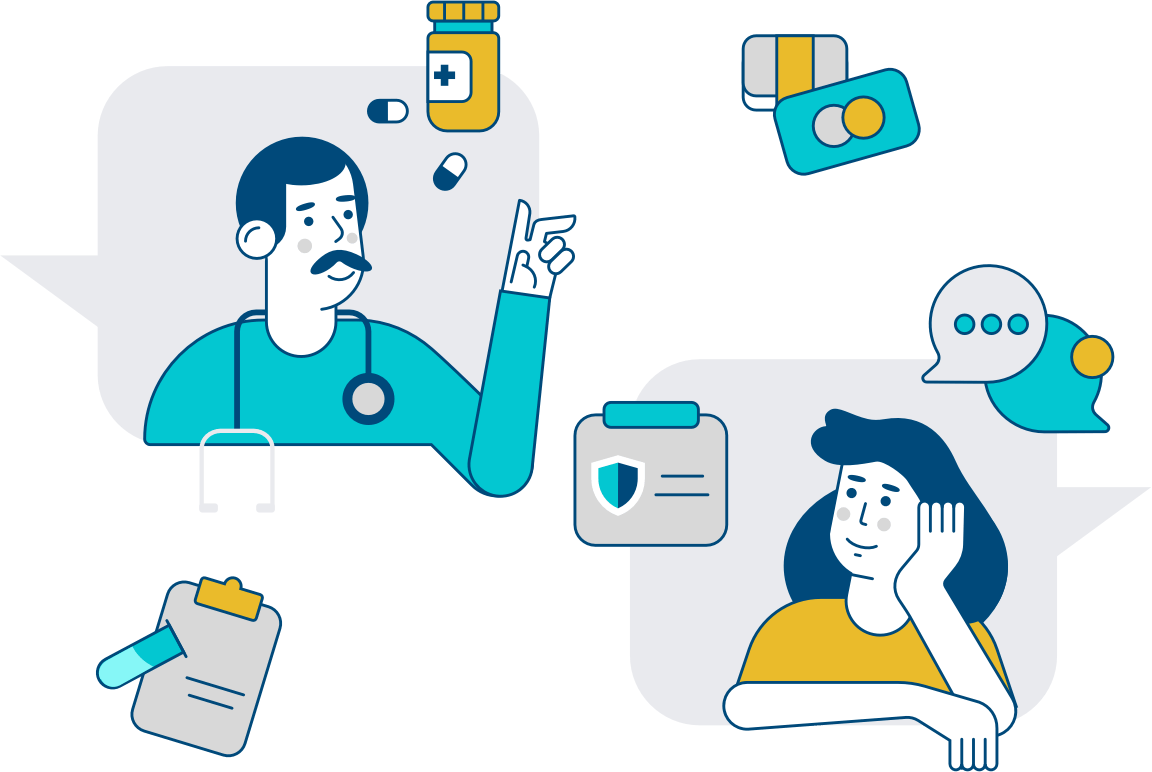 Brand book
We created a detailed brand book describing the Welfaire style. It touches upon best practices for using the company's sign and logo, typography, fonts, and colors for designs and layouts. We specified the rules for illustrations and the use of images in branded items to keep the Welfaire design consistent across platforms. This brand book will come in handy for designers and frontend developers that work on the insurance company's products in the future.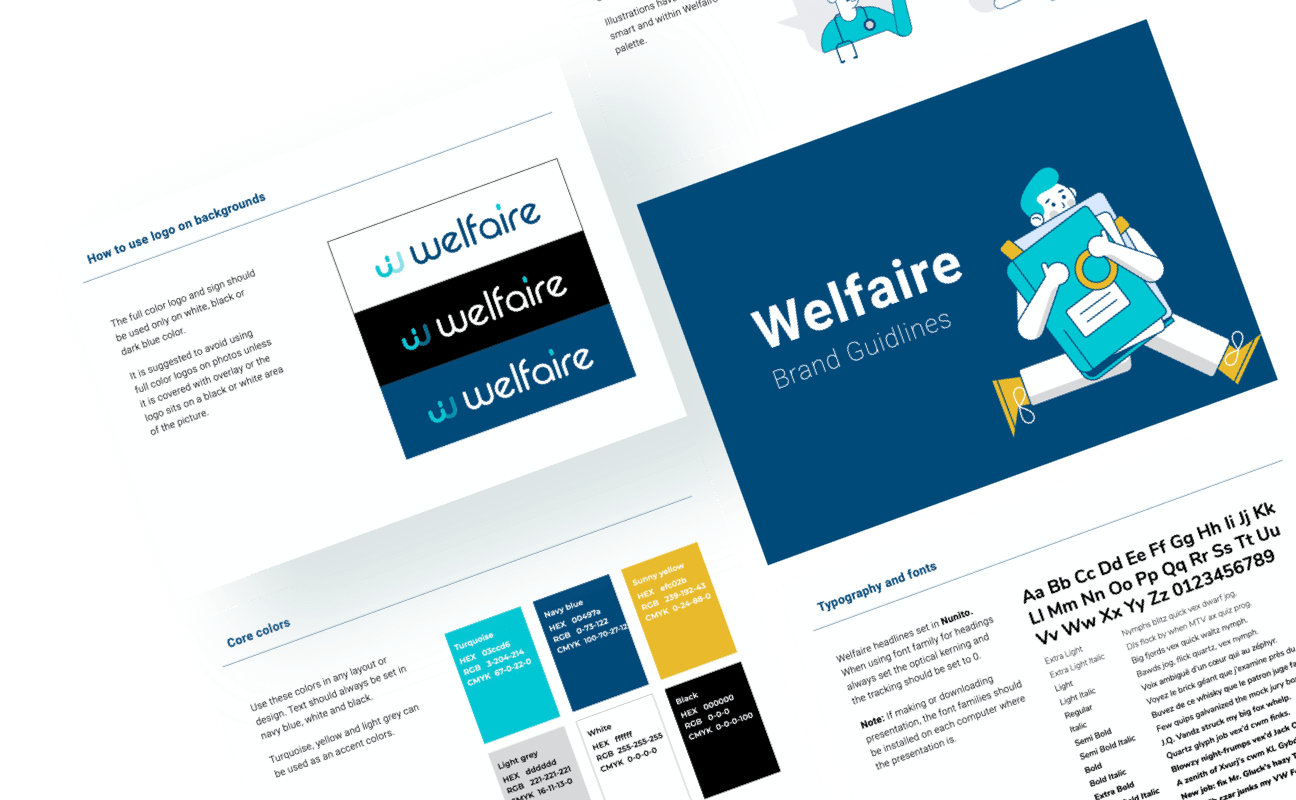 Presentation templates
Brand identity is especially important when you're presenting your idea to sponsors or potential partners and sharing updates or thoughts with colleagues. That's why we created a series of branded slides that our client can use as templates for future presentations.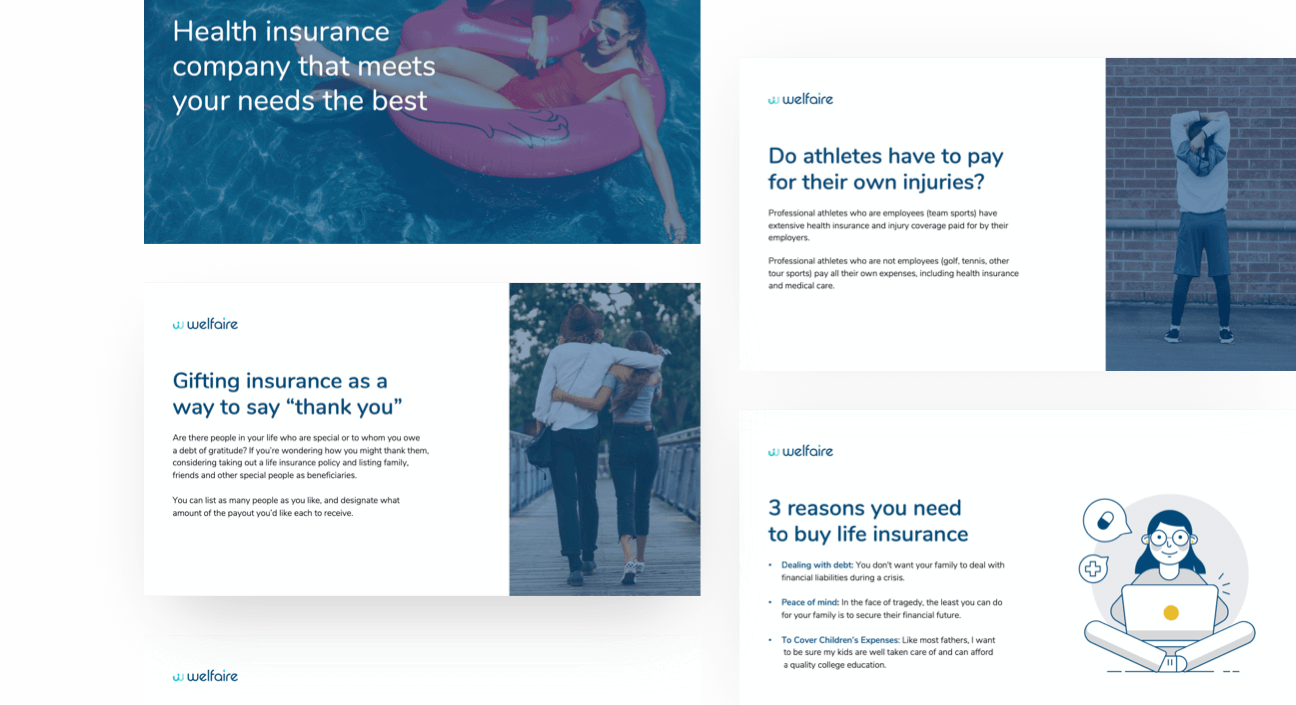 Results
The UGEM team helped Welfaire create a brand identity that fits the company's mission. Now, Welfaire has a recognizable modern style that distinguishes it from competitors.