Almost 65 million people had active fitness and sports club memberships in 2019 in Europe. This number is increasing by 3.8 percent each year. And due to the growing interest in sports and healthy lifestyles, an online presence has become fundamental for fitness businesses. This article highlights why the design of a fitness website is important and shares a few tips on making your website user-friendly. We also show the five best fitness websites to inspire you to build a successful website of your own.
Why do you need a fitness website?
The latest report on digital trends by Datareportal shows that 56 percent of the world's population are active internet users. This means an online presence and a website are strategically important for the development of both offline and online businesses. Let's take a look at why a website is essential for a fitness business.
Stand out among competitors
As healthy lifestyles gain in popularity, more and more fitness clubs and online sports services appear. Competition in this area is becoming challenging. IBISWorld statistics show that there are 105,846 health and fitness clubs in the US in 2020. Having a custom fitness website helps you stand out from many competitors with template landing pages. A well-designed unique website can reflect your goals, show off your skills, and build a recognizable online brand.
Expand your business globally
When you start an online fitness business, a website is vital. A well-designed website and marketing strategy can help you expand your business beyond the local market and reach audiences around the world. In addition, a quality design helps you make a good impression on all visitors to your site.
Enable secure payments
When creating a website, you may want to integrate payment gateways such as PayPal or Stripe. These gateways comply with the highest standards and will help you securely accept, send, and manage payments online. They also help you protect your business from fraud.
Get powerful analytics
Website analytics is the process of collecting, processing, and analyzing website data. With the help of special analytics tools, you can understand not only how your site performs but also get to know your visitors better and understand where traffic is coming from. This information helps you direct marketing efforts in the right direction and attract more visitors to your website.
Run remarketing ad campaigns
Remarketing is a way to connect with users who have previously interacted with your fitness website but left it without performing a target action (subscribing, making a purchase, etc.). Using algorithms, Google, Facebook, Instagram, and LinkedIn can display advertisements for your fitness services on their networks and thereby encourage users to return to your site and complete a target action.
Best fitness website designs
Let's take a look at real websites of popular fitness clubs and products. We've collected six of the best examples for inspiration.
1 Rebel
Rebel is a London network of gyms that positions itself as an anti-sports club. The interior of all Rebel gyms are in an underground style with futuristic elements. Rebel also carries this style into their website design.
The interface of the Rebel website is designed in dark gray with white fonts and contrasting elements to create a glow effect. High-quality photos of gym interiors motivate users and encourage them to book a class. When hovering over photos, animations give the feeling of movement.
Solidcore
The Solidcore chain was founded in 2013, and Solidcore fitness clubs are located throughout the United States. Michelle Obama is a big fan of this fitness club chain.
The first thing that catches a visitor's eye when visiting the Solidcore site is a pleasant blue color and a custom font that persists throughout the entire site. Call-to-action buttons are visible thanks to short, active text and animations. The site also has a great schedule page with user-friendly navigation and photos of trainers so visitors can quickly choose the activity and trainer they want.
Adidas Runtastic
Adidas is known as a sportswear, shoes, and equipment company, but Adidas has also released its own application. They've also created a website for the app so customers can get familiar with it.
The Adidas site immediately inspires visitors with a sporting spirit. High-quality photos are well-combined with calm colors, and users can visit the blog page and use convenient filters to find a topic of interest.
Fitbit
Fitbit is a brand of fitness trackers that help users track movement and body condition. The Fitbit website looks stylish, discreet, and friendly. When visiting this site, users are greeted by a banner with the latest Fitbit device. The sense that the watch is in motion hints at an active lifestyle. Also, intuitive navigation makes it possible to quickly get information about each device model.
Precision Run
Precision Run is a club that qualifies for professional running. Their website gives off a sporty and energetic vibe; the home page has a bright banner and short training videos. This design motivates users to take action. The menu is located on the left of the site instead of at the top (which is the standard location). When hovering over the menu, a bar pops up with vibrant typography and photographs. Despite its non-standard design, the site is convenient and intuitive to navigate.
The Class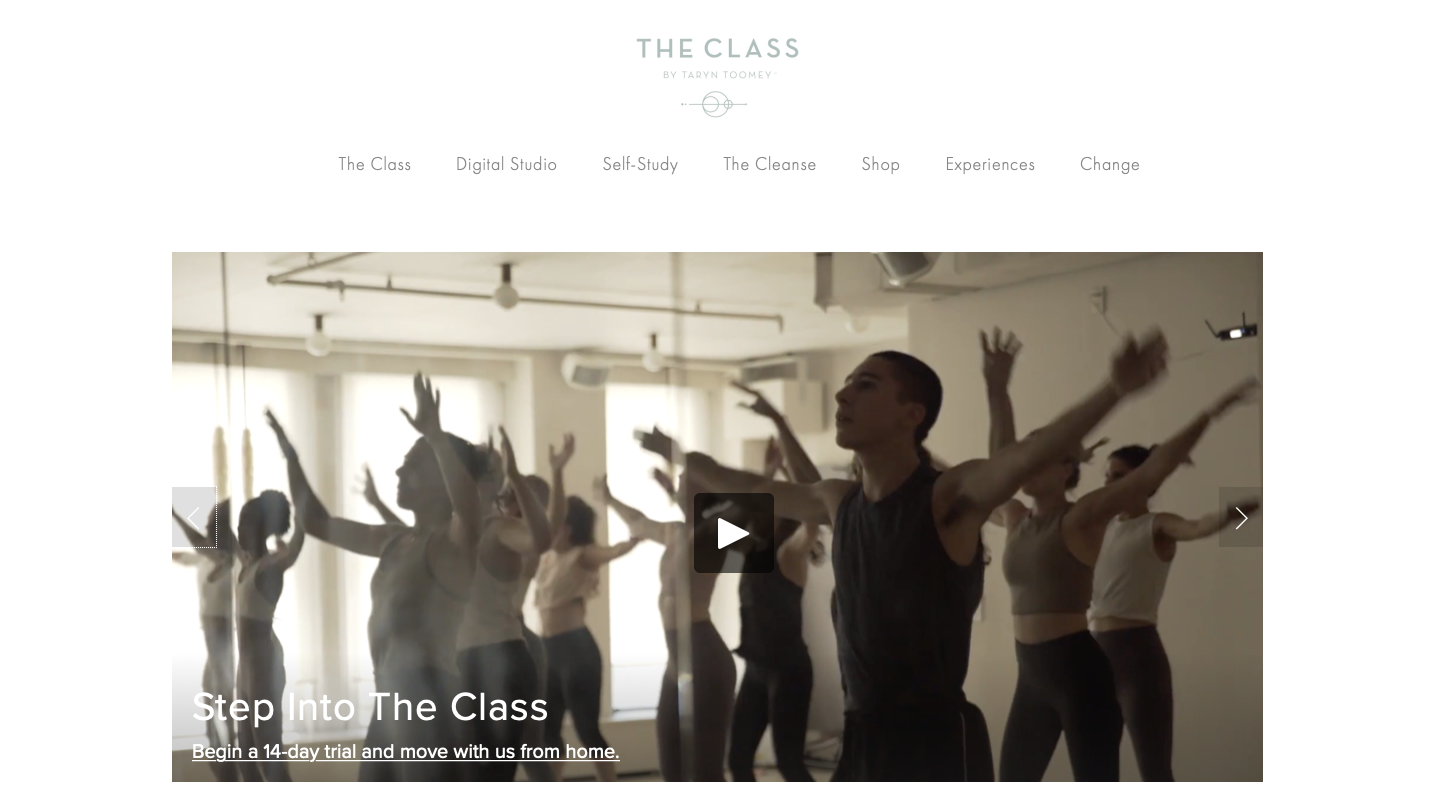 The Class is an online website that provides online workouts. This is a young brand that was founded in 2019, and in a short period it has managed to win the interest of many sports fans.
The Class's website interface uses light colors, which gives a feeling of levitation. When visiting the site for the first time, users are greeted by a banner with a video that demonstrates real people who use The Class and share their feelings about training. A menu bar at the top of the site allows users to navigate, and dropdown menus help users find information fast.
Tips on how to make the design of your fitness website stunning
The main goal of design is to provide users with the best possible experience and help them meet their goals. Let's see what design approaches will help you make your fitness website user-friendly.
#1 Provide intuitive navigation
Navigation is one of the most crucial aspects of UX design. It helps users access content and solve their problems. Complex navigation can cause users to leave your website quickly and look for a similar service or product from your competitors. To prevent this, help your users understand where they are and how to quickly get where they need to go. Simple and intuitive navigation is the key to a good user experience.
To create user-friendly navigation, a design team tests different navigation patterns and chooses the one that best suits your business goals. To make sure visitors can comfortably browse your website, designers create a sitemap and then a user flow to detect potential bottlenecks and decide how to prevent them.
Fitness Blender, a home workout service, has a website with well-thought-out navigation. People come to Fitness Blender to find workouts that meet their needs. With the help of a horizontal pop-up menu and clear icons, users can easily find workout categories. The website also offers a great deal of useful filters that help speed up the search. By ticking options, users can get suitable workouts in a few seconds. Users can choose training in corresponding categories and further adjust the intensity or training type.
#2 Make powerful call-to-action buttons
Powerful call-to-action (CTA) buttons can help you reach users and encourage them to take action. For example, when a user visits a blog page and there's no clear call to action at the bottom of an article, the user likely will leave the site immediately after finishing the article. If there's a CTA asking to subscribe or read more, the user is more likely to continue interacting with the site.
To create powerful CTAs and make users click on them, you need to choose the right button color and size. It's best to do this in accordance with the overall appearance of your website. Use contrasting colors, gradients, and shadows to make buttons interactive.
Also, pay attention to the text you write on your call-to-action buttons. A well-crafted CTA allows you to start a dialog between your customers and the website. To hook readers, CTAs should be short and clear. Use imperative verbs like sign up, buy, and join. Such CTAs don't look veiled, and users know what awaits them after they click.
Below, you can see an example of a powerful and well-designed CTA button on the FitnessFactory website. The red looks organic and makes the button stand out against the dark background. Such color combinations create contrast and dynamics and motivate visitors to click.
#3 Bring high-quality content to your website
Photos, videos, and images provide information faster and in a more digestible form than long texts. Use animations or short videos on your homepage to pique interest in the first seconds so visitors continue to interact with your site.
Avoid low-quality images and stock photos, as they can alienate potential customers. Unique and professional graphics are the best way to gain credibility and show your serious approach to your website and business in general.
To promote the Nike Training Club app, the Nike website uses high-quality visual content. All photos and videos are made in the same style and colors, creating a consistent look.
#4 Create a blog
By creating a blog, your website gets more chances to appear on the first pages of Google search results and bring more traffic. With the help of blog posts, you can share useful information to show your professionalism and build a community around your business. But if your blog isn't visually catchy, it has no value.
Before creating a blog page, think about how to make it easy to use. Since a blog contains lots of information, make sure users can easily find what they're looking for. Organize blog posts within categories and add filters. This will speed up the search process and create a smooth user experience.
Don't forget about visual elements on your blog. Use vivid and high-quality photos and apply harmonious colors and advanced animations. Font is also an element that impacts blog usability. Since users read articles for a long time, it's important to choose a font that doesn't hurt the eyes. Try to avoid custom and fantasy fonts, as they're hard to read. It's better to apply a simple sans serif font.
8 Fit is a shining example of what a blog should look like. The designers divided all article topics into blocks so visitors can easily find an article of interest. Also, these blocks are accompanied by photos to make the page appealing.
#5 Make the scheduling page user-friendly
Scheduling calendars and timetables can be cluttered, making them challenging to use.
To make the scheduling page clear and easy to use, include only the most important information like the type of training, the date, the time, and the coach's name. Don't overload the interface with unnecessary information. It's possible to divide your training schedule by day and arrange it using the navigation menu at the top of your site as Fitting Room did on their website.
#6 Design a clear booking tool
Once users are familiar with your fitness club's services, they may be ready to book a training. When users go to the booking page, don't scare them with numerous fields they must fill in. Ask only for necessary information: their name, a phone number or email, and the training session they wish to attend. Masking, date pickers, and autocomplete suggestions can simplify this process significantly.
Also, you can use real photos of trainers to give users more information on who's going to be their trainer and when. Phive is a great example of a website where designers have taken this approach. Users can select a trainer by clicking on the trainer's photo and then book a training online. Once on the booking page, users need to enter their name along with a phone number or email address.
#7 Offer a free trial or a discount
A pop-up banner offering a free trial or discount is a great tool to attract potential customers. You can show a pop-up banner when a visitor is about to leave your website and offer a trial training or a discount. This gives visitors more reasons to stay on your website. To make the banner noticeable, it's best to use bright colors, illustrations, or animations. The banner should be catchy but not overloaded with elements, so it's best to keep it as simple as possible.
Wrapping up
After a detailed study of the best fitness websites and design approaches, we advise you to pay attention to the intuitiveness and simplicity of your UI and UX design. This will help you create a quality website that engages your users and brings them an outstanding user experience.