A job search marketplace for actors and casting professionals
Almontage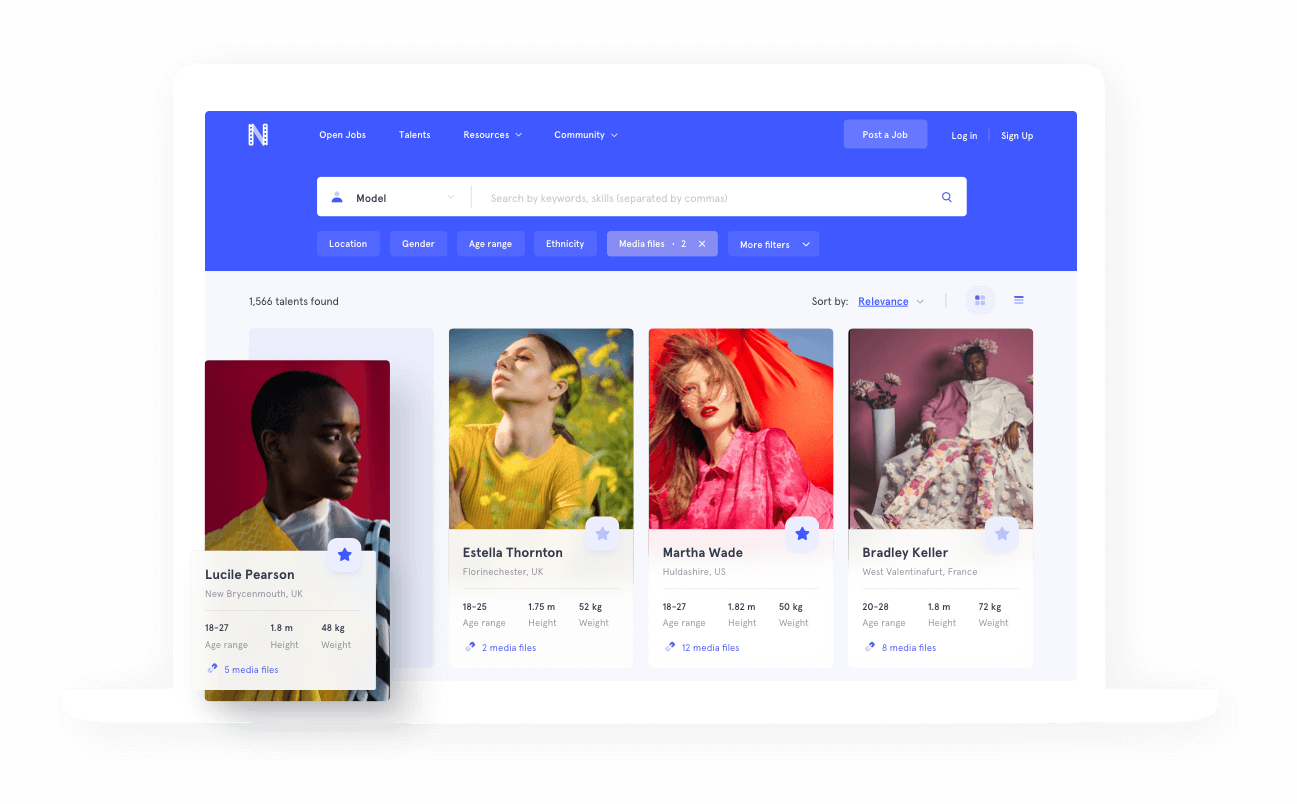 Overview
Saud Almadhi is the CEO of a production company based in Riyadh, Saudi Arabia. Saud has worked in the field for a long time and knows all the issues that production companies face when hiring actors and crew members.
He contacted the UGEM team with an idea for an ultimate platform to find actors and casting professionals. He came up with a job search marketplace that dramatically simplifies the talent search and acquisition process for production companies and allows people to easily find jobs in the film industry without a talent agency.
Project Profile
Target audience
Production houses who want access to a large number of jobseekers with up-to-date profiles and don't want to work with intermediaries.
Actors and crew members who want to apply for job positions or get job offers directly without going through talent agencies.
Project timeline
8 months
Design objectives
When Saud Almadhi contacted our team, we defined the scope of work, projects' timeline, and the most vital design objectives to be met. For this project, we needed to:
Create an easy to use UI and UX design for a feature-rich product.
Create a simple searching view since the product is packed with many searching and filtering functionality.
Allow to reach job seekers easily and communicate with them via the platform.
Encourage job seekers to update their profiles regularly.
Create a simple and clear registration form for job seekers.
Create a clear dashboard to allow employers to manage vacancies effortlessly.
We started the project with
User Flow
We create user flows to visualize the whole journey from the user's perspective, from the entry point to the final action. Mapping user flows helps us determine the content and functionality we should include, taking into account the user's specific goals.
Wireframes
Wireframes and prototypes visualize the user's interaction with an interface. This stage helps us review design solutions with the project's stakeholders, test them before implementation, and quickly make adjustments.
Library of components
Creating a library of components allows us to speed up development, maintain visual consistency, and successfully scale a product without design discrepancies.
Design solutions
To reach the objectives of the project, the UGEM team came up with the following design solutions:
Comprehensive profiles with up-to-date information
Production companies in Saudi Arabia spend a lot of time, effort, and money hiring talent via agencies that provide outdated profiles and have small talent pools.
To solve this problem, the UGEM team designed a comprehensive profile feature to make sure that employers get all the information they need. Profiles in Almontage can also be used as professional portfolios.
When registering in the app, candidates can add media files (photos, video, and audio) to their profiles. In order to avoid unfilled or outdated profiles, Almontage encourages users to fill their profiles by implementing a visual scale that shows profile completion and providing useful tips.
Optimized registration process for jobseekers
Existing job search websites require jobseekers to input a lot of personal data that's not always necessary. The process takes some time, so a large number of professionals quit the registration halfway.
To encourage candidates to complete registration, we divided the sign-up process into several steps and reduced the number of fields required. We left those fields that help crew members describe their professional skills while avoiding cluttering profiles with unnecessary information.
Intuitive and fast search
Both jobseekers and production companies get access to numerous filters that allow for effective and precise search, starting from the hair color and age range an actor can play to role types and even keywords.
Simple management of vacancies
A clear dashboard allows employers to manage positions, add information about candidates, and change job post statuses.
Results
The UGEM team has helped Almontage to become a leading platform in the recruiting market in Saudi Arabia. The platform today connects thousands of job seekers, who want to find their dream job and kick-start careers, and dozens of production houses that now can easily find a perfect candidate within minutes.
The UGEM team understood the business flow perfectly which allowed us to create an outstanding user experience. The time management was at a high level so the time was allocated to the right activities on the project. We appreciated the communication between the Almontage team and UGEM since it was clear and to the point. Their design services, deep technical expertise, and seamless workflow brought real value to our cooperation. We would definitely run our next app expansion by the UGEM team.
Saud Almadhi
Almontage, Founder & CEO