Social Voting App for Market Validation
Vootex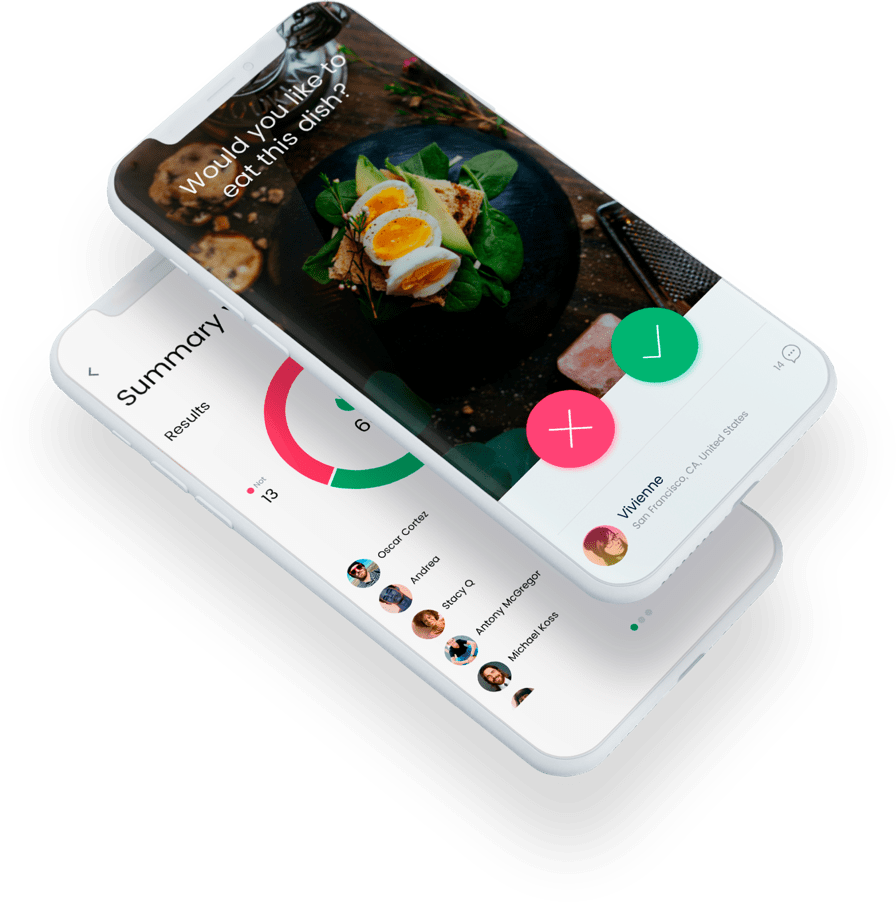 Overview
In spring 2016, an entrepreneur from San Francisco approached UGEM and requested a design concept for his new product – Vootex, a social voting app for market validation.
For this project, our UGEM team sought to explore how we can help businesses research their markets and validate ideas before launch.
Project Profile
Target audience
Business owners who need to validate ideas before launching products or services
Users who are active on social apps and open to sharing feedback and participating in surveys
Design Objectives
Our primary task was preparing the product concept. We had to stick to the initial idea and purpose of the app and offer a design concept and application architecture based on a marketing science approach.
Application Structure
Our goal was to let users navigate the application as easily as possible and know where they are within the app at any point. As an app for gathering analytics, Vootex had to be simple and intuitive.
To encourage users to interact with the application, we also had to offer them a familiar and comfortable space. That's how we arrived at the social application concept.
Sleek and Comprehensive Voting
One of our objectives was offering a comprehensive solution for taking surveys and voting. We needed to ensure that the voting feature offered a wide range of functionality while keeping the design sleek and sticking to an experience that was familiar to users.
Data Visualization
Since the application was planned as an analytics tool for businesses, we needed to offer a compelling and clear data visualization solution.
Product Concept Testing
We engaged in product concept testing, following all its finest traditions from user research to planning the navigation system and visual hierarchy and eventually to usability testing.
As a result of our product concept testing, we came up with a well-tested idea and high-fidelity wireframes for the application.
Building a Strong UX Foundation
Our goal was to ensure the application was intuitive, offered simple navigation, and facilitated smooth micro-interactions between users.
Keeping in mind iOS best practices, we put effort into reflecting the concept for the application clearly in its design. We also followed the principles of native mobile solutions, which allowed us to create a UX that's familiar to users and doesn't require sophisticated onboarding.
Mascot
To make the application more recognizable, we came up with the idea for a mascot that would be lively, provide a consistent character, build positive emotions, and support the product's tone and voice.
Our search led us to a fox. So we created a friendly fox that takes users through the app from onboarding to interacting with others and taking part in surveys.
Analytics and Visualizations
Ensuring that data can be gathered for business decisions is crucial. But clearly and relevantly displaying that data is equally important.
To help businesses orient themselves based on data gathered by Vootex, we designed the analytics features to not only be clear and engaging but also to let businesses extract the most intelligence from the data.
Clear and Concise UI
Our approach to the user interface was based on clarity, deference, and depth.
Sticking to the principle of clarity ensured that fonts were legible, icons were precise, and the color scheme, graphics, and content complied with legibility requirements. Creating a light and airy interface based on the concept of deference helped us keep interactions with content simple.
Finally, persistent hierarchy throughout the app gave users a sense of depth while navigating content.
UGEM handled all the design concept for our application. They came up with an idea for how to wrap a market research tool into an appealing and interactive social voting application.
Vlad Gorodetsky
Vootex, Founder