An Online Fashion Platform for Shoppers
MilanStyle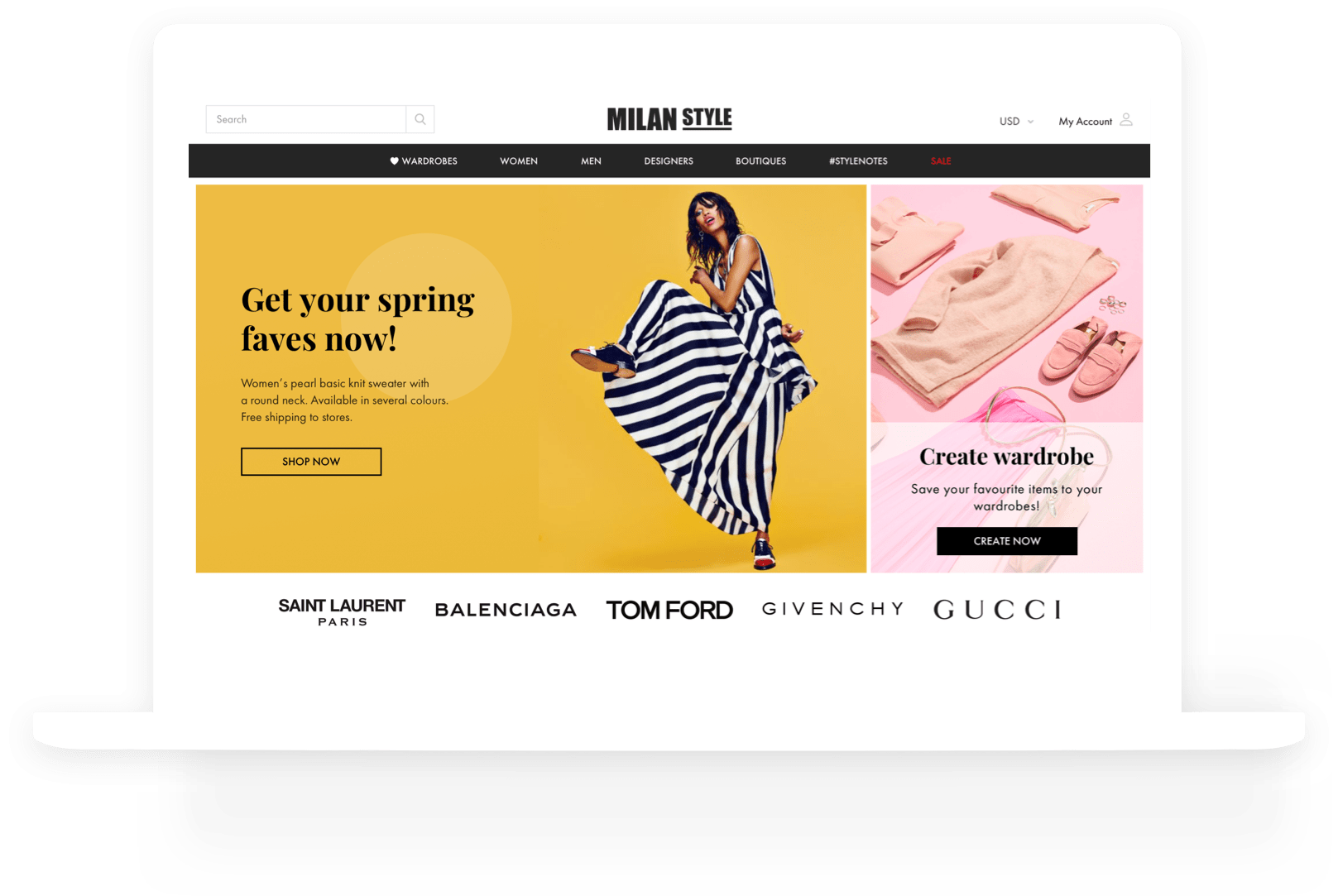 Overview
In 2017, Jonathan Edwards, an entrepreneur from the UK, asked UGEM to redesign his fashion marketplace – MilanStyle. This outstanding online shopping platform combines the world's top brands and stores in one place to facilitate the online shopping experience.
The new design solutions we came up with modernized the site's visual style, improved the online shopping experience, and helped to build a loyal community of customers.
Project Profile
Target audience
Shoppers who want to look for different luxury items in one place
Project timeline
5 months
Design objectives
After Jonathan Edwards contacted our team, we defined the scope of work, project timeline, and most vital design objectives. For this project, we needed to:
Review the existing platform's design to reveal the weaknesses of the visual system and improve the overall buying experience
Improve search tools to make site navigation and filtering comprehensive, direct, and understandable
Build a loyal fashion community and re-engage customers by letting them socialize and share ideas
We started the project with
Library of components
Creating a library of components allows us to speed up development, maintain visual consistency, and successfully scale a product without any design discrepancies.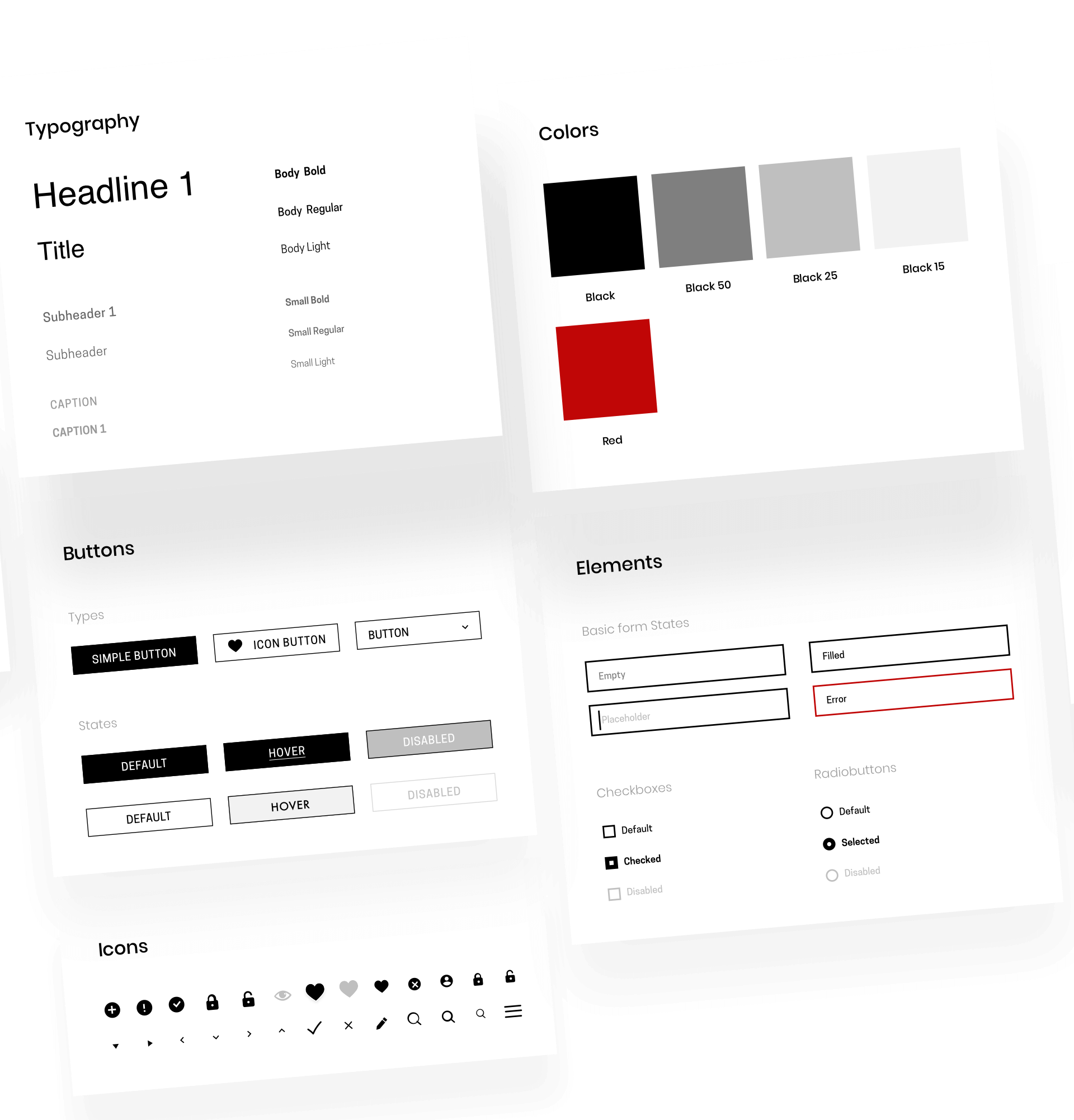 User Flow
We create user flows to figure out how real people will use your app from the time they open it to the time they exit. User flows help us determine the content and functionality that must be on a page. Our aim is to align user flows with users' specific goals.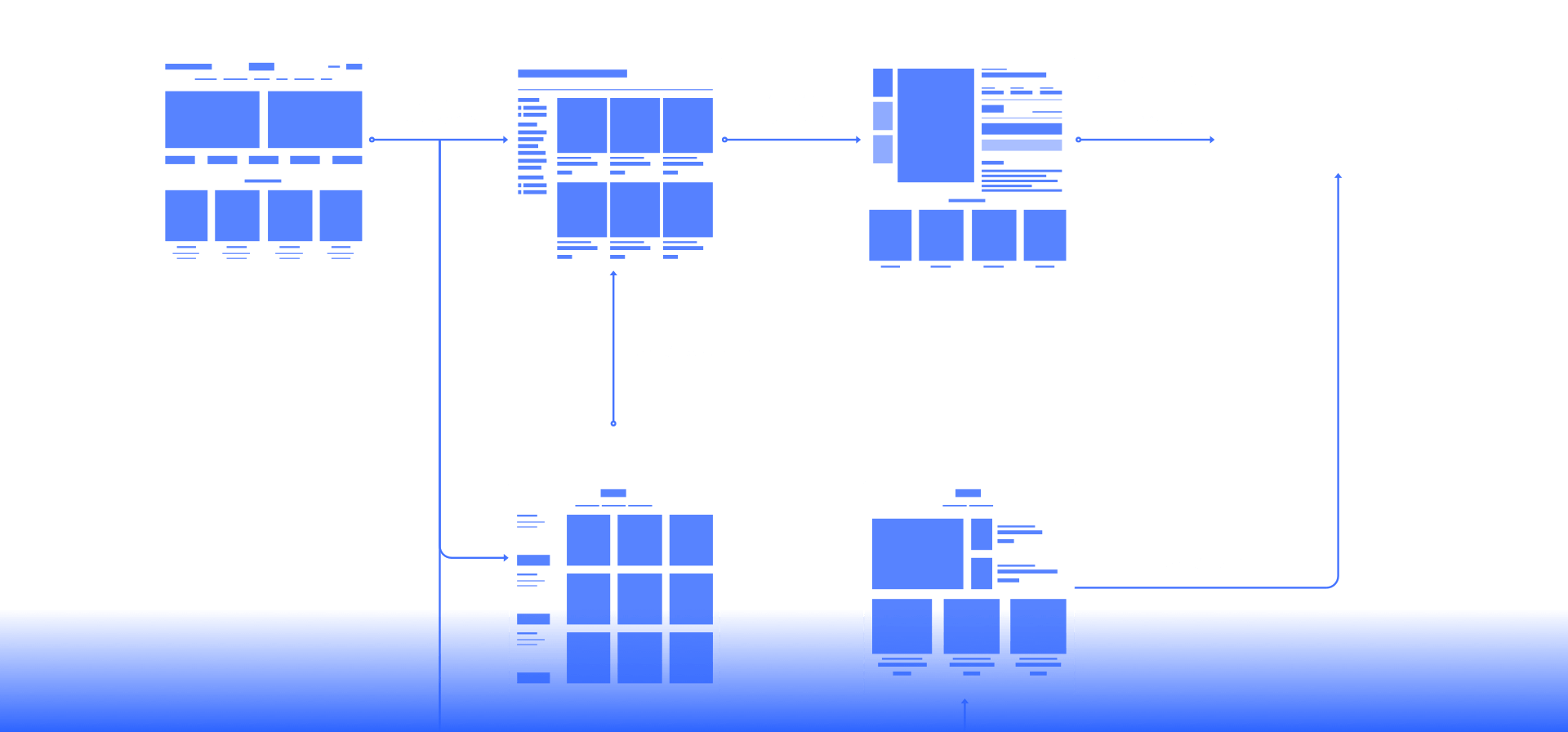 Wireframes
Wireframes and prototypes visualize a user's interactions with an interface. This stage helps us review design solutions with project stakeholders, test them before implementation, and quickly make necessary amendments.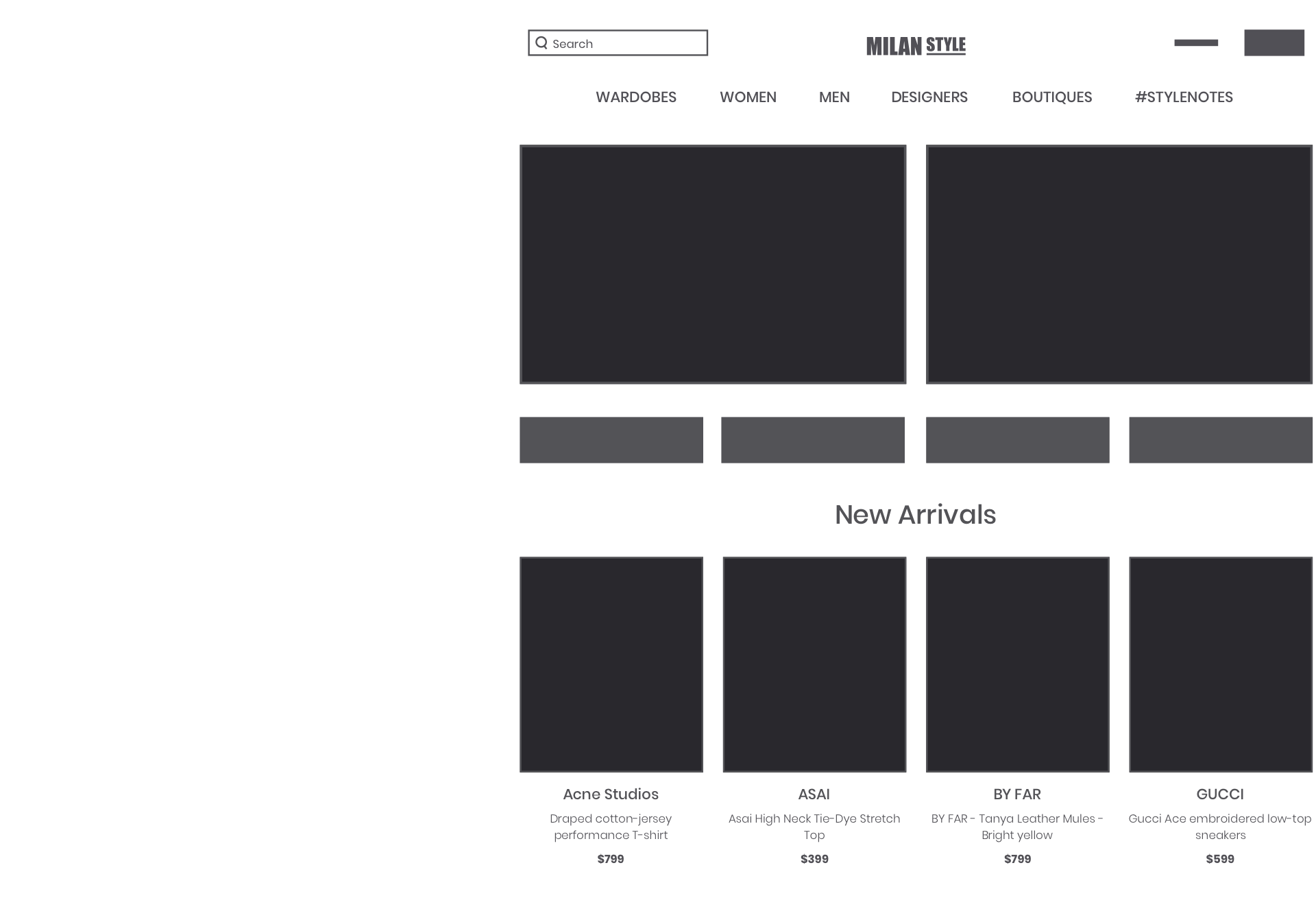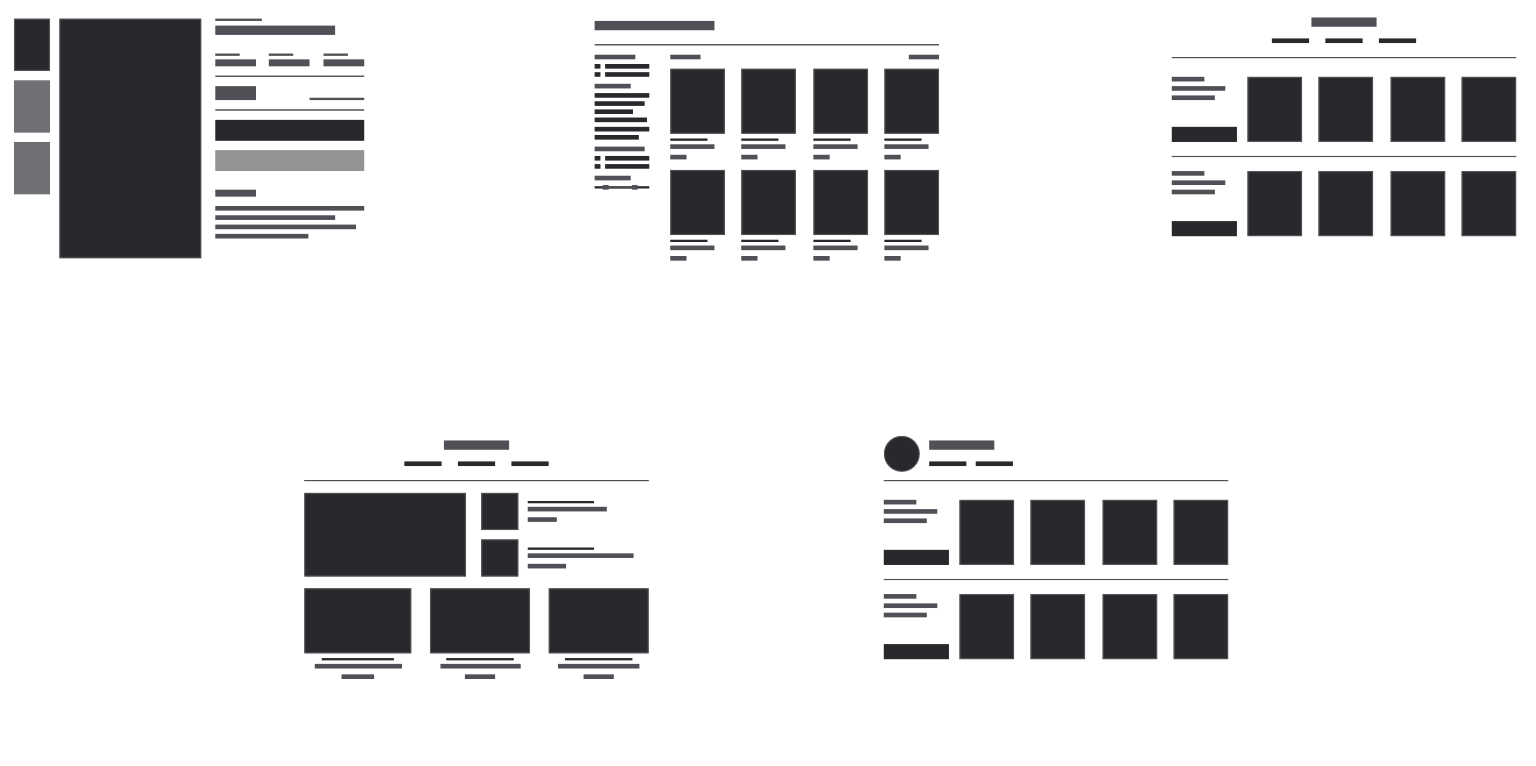 Design solutions
To reach the objectives of the project, the UGEM team came up with the following design solutions:
UX audit
Before adding new features to the existing design, we conducted a thorough UX audit, which helped us identify lacking features and improve existing ones. As a result of our UX audit, our experts identified issues with site navigation, user flow obstructions, and an outdated design. Our team prepared a list of recommendations to solve these issues.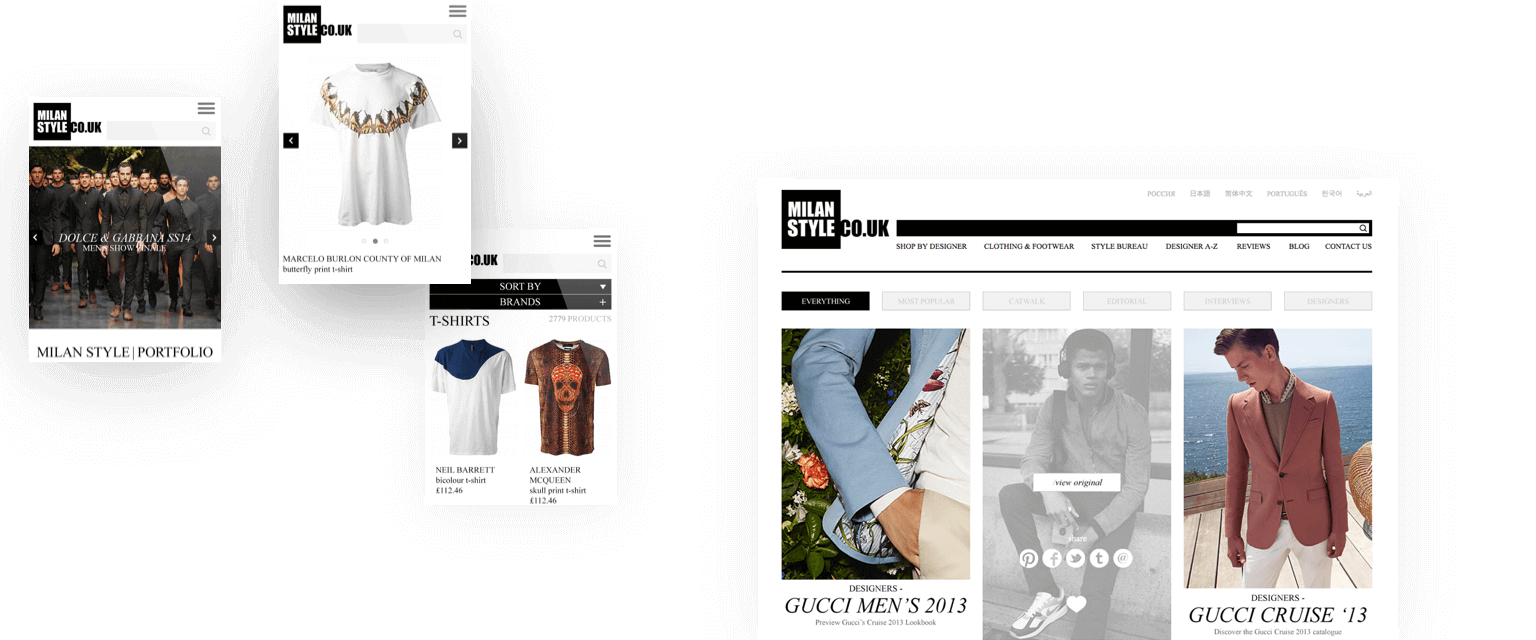 Redesigned pages
After the website UX audit, we redesigned the landing, home, new arrivals, style notes, product list, and product pages according to our recommendations formed during the audit. Redesigning these elements allowed us to improve the overall user experience, reduce the bounce rate, and increase user retention.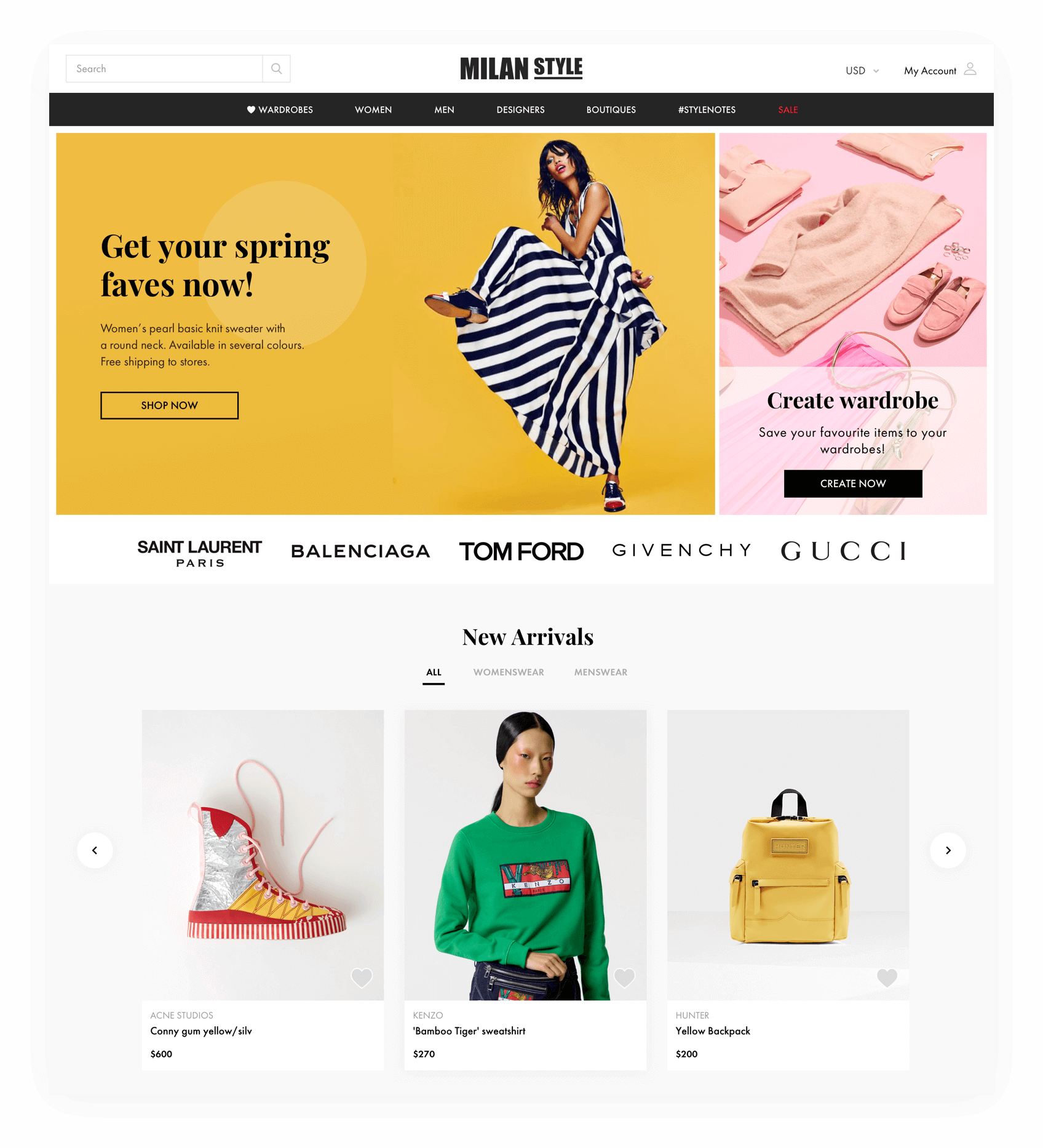 Simplified navigation and filtering
To make website navigation and filtering more intuitive, UGEM designers created a left-hand filtering sidebar and divided it into convenient categories. We also truncated filters so shoppers can navigate the platform with ease.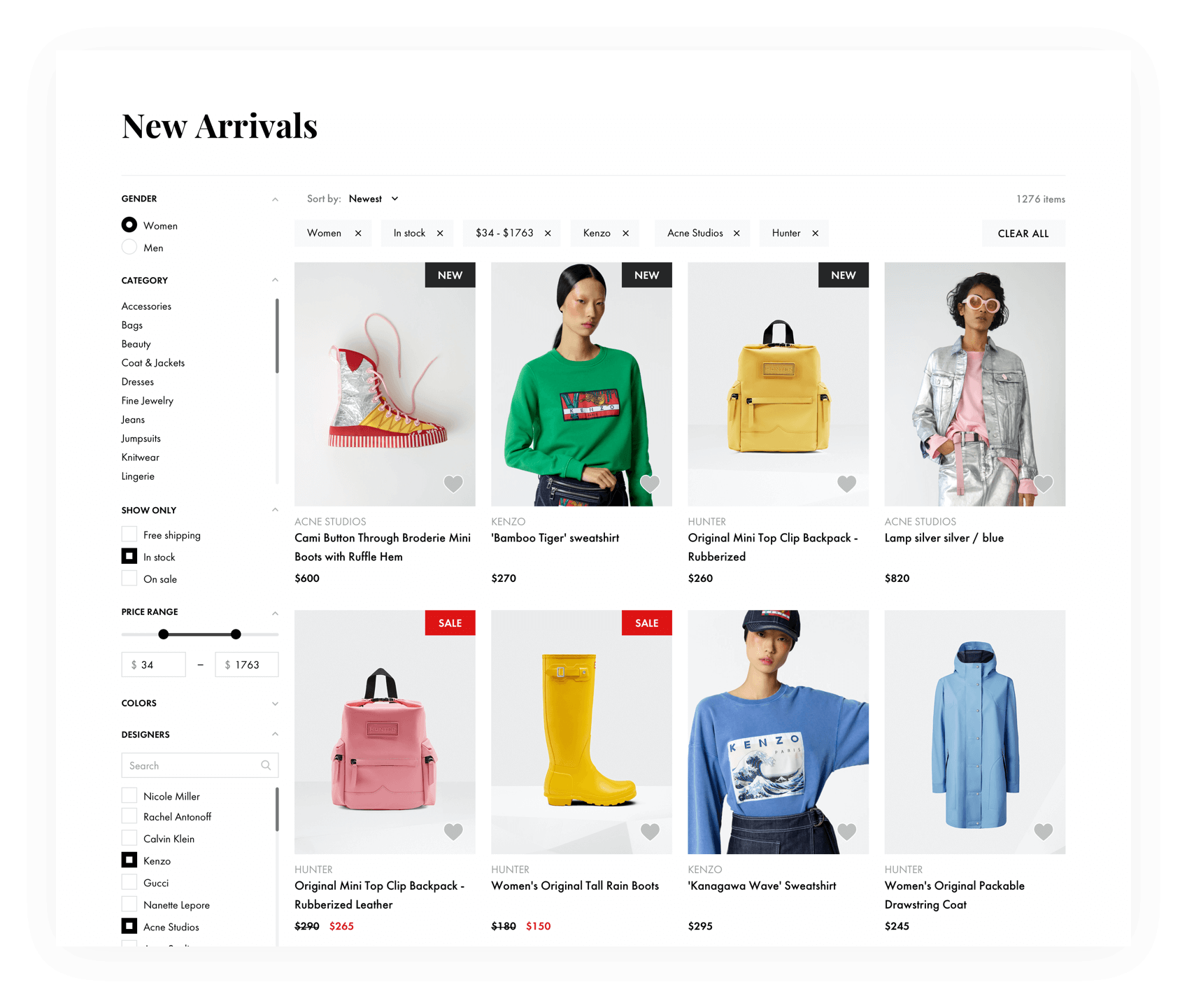 A new social element
To create an environment where shoppers can communicate, socialize, and share ideas within the community, we redesigned existing elements and created a completely new feature called Wardrobes. Wardrobes allow users to create and share collections of unique looks with the MilanStyle community and get inspired by looking at others' collections.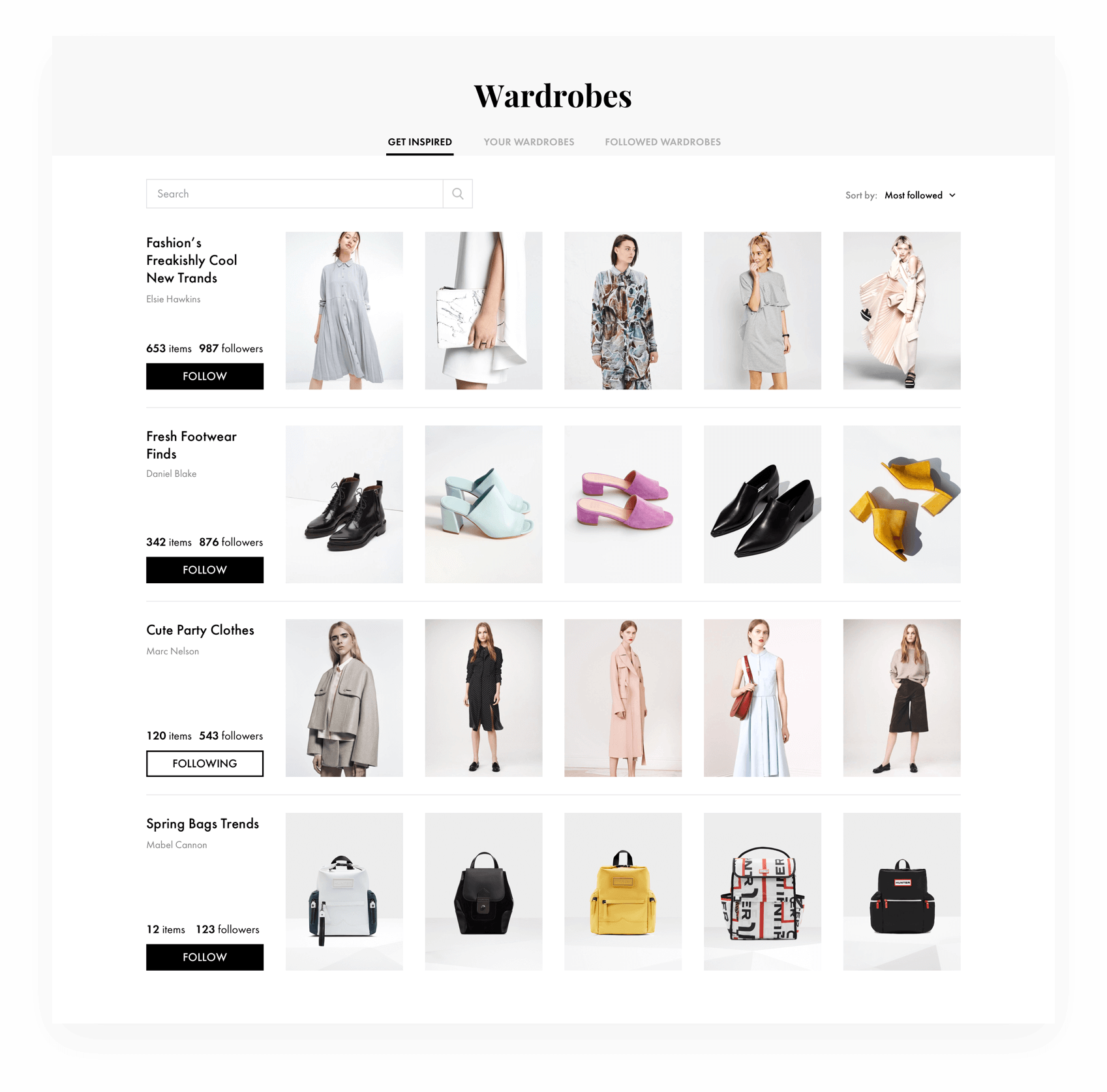 Results
Today, MilanStyle is a new and re-powered online shopping platform featuring more than 800,000 products in one convenient place. The UGEM team revealed inconsistencies in the user experience during our UX audit and came up with workable design solutions. We redesigned the most important platform elements so that it's easy for customers to navigate the website, communicate with like-minded people, and find the items they're looking for among thousands of options.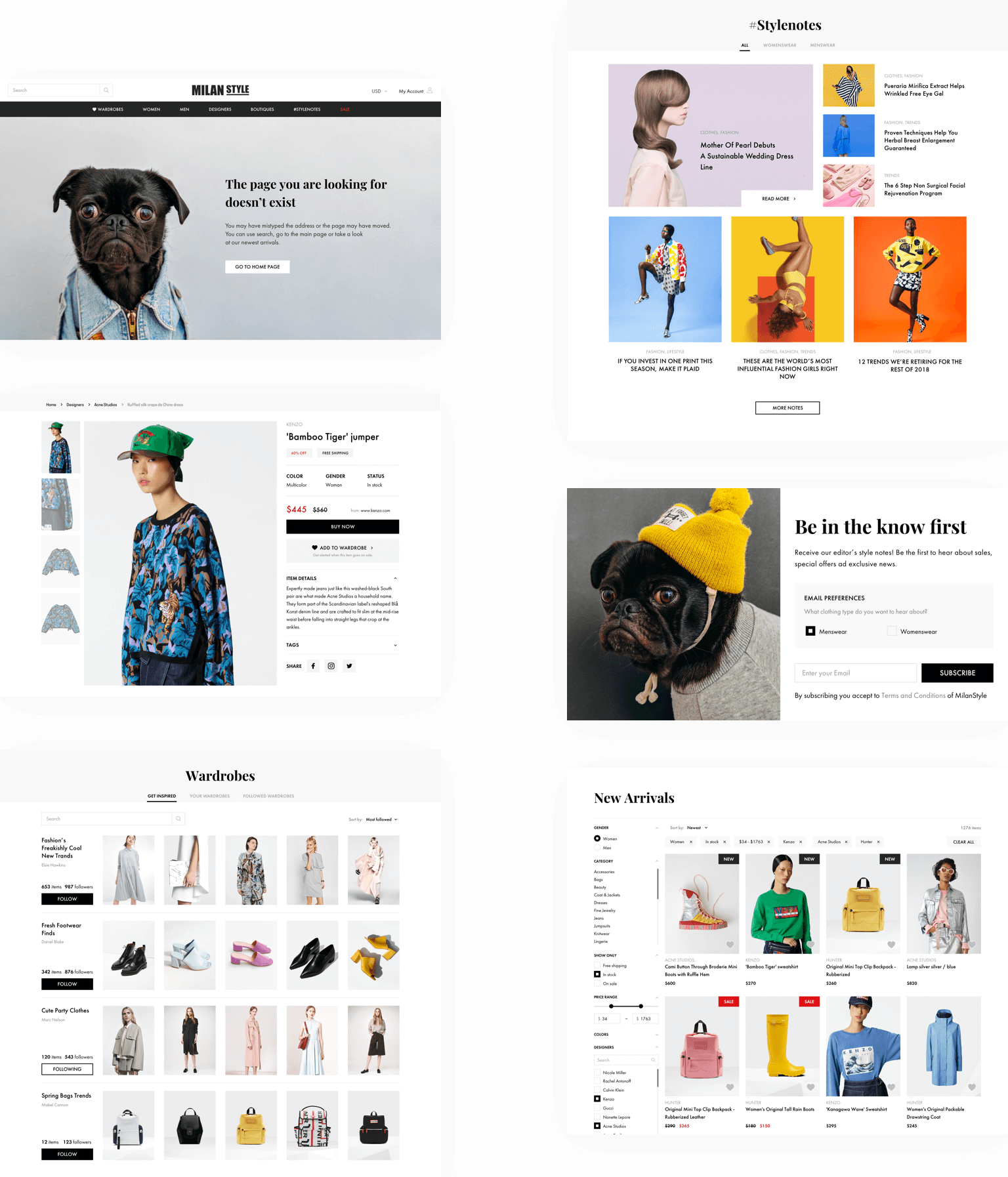 Big thanks to my software engineering crew in Ukraine – developers, engineers, database specialists, designers, QAs – all of whom have been working hard with me over the last nine months on the new and re-powered MILANSTYLE.com. Something like 800,000 products from the world's best luxury stores in one place... Wow. A few further things we plan to do, tweak and enhance, but ecommerce and large database-driven websites are always a work in progress. Team work makes the dream work.
Jonathan Edwards
MilanStyle, Founder