Marketplace for sports and extreme activities
Avidyx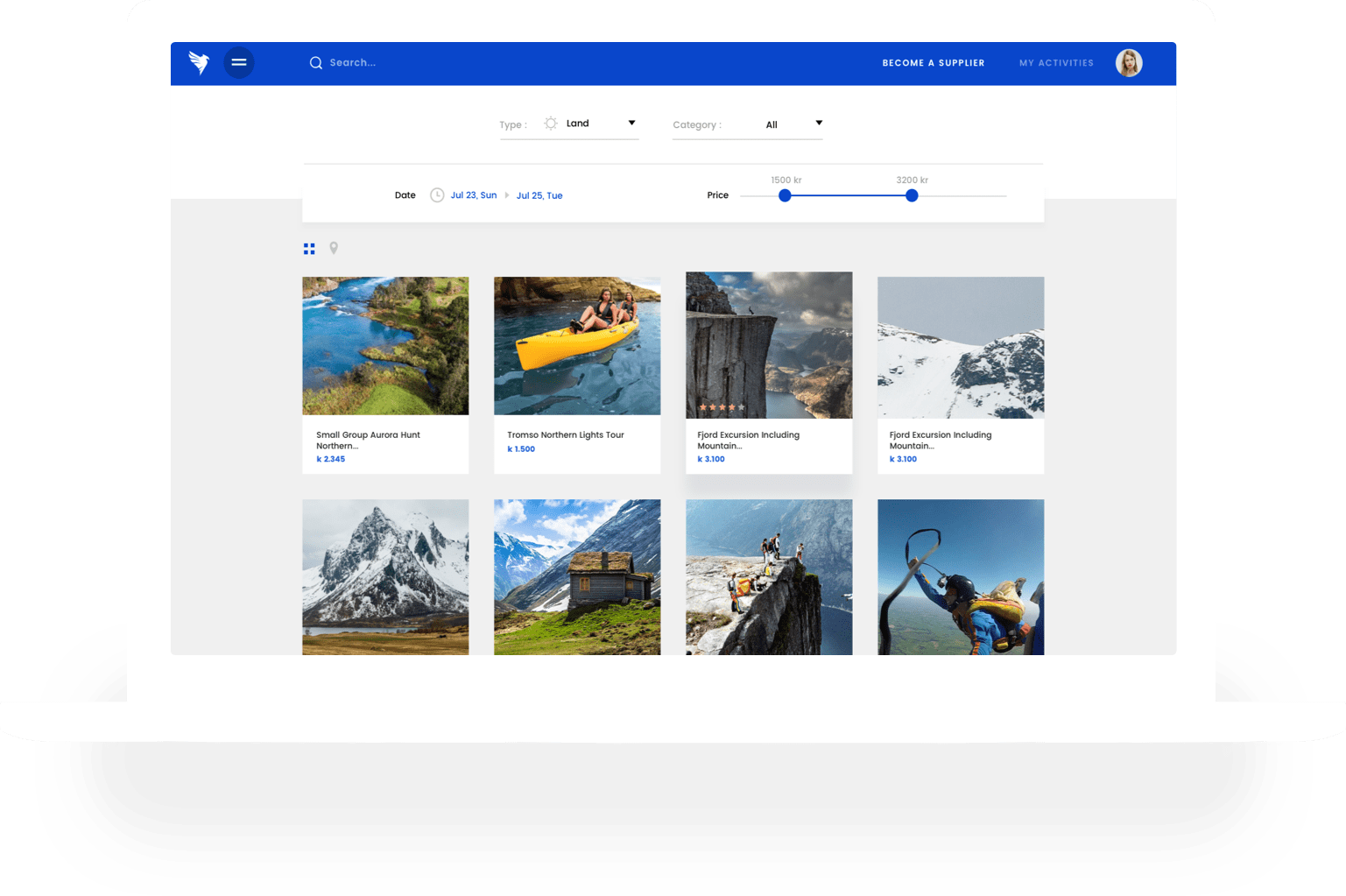 What we did:
Information architecture
Wireframes
Clickable prototype in InVision
Responsive screens
Interaction design
UI Kit
Collaboration with RubyGarage
Deliverables:
Information architecture charts and flow diagrams
Wireframes and mockups
Clickable prototype in InVision
UI Kit as a visual guideline for developers
Background story
Our story is about three young adventurers from Norway who realized that their hobby could be a great idea for a business. Frederik, Harald, and Andreas are really into active sports including skiing, sailing, snowboarding, and surfing. Unsurprisingly, their startup idea came to them on a plane to Bali, where they were headed for surfing and deep-water diving. Initially, the trio had thought of launching a food delivery service, but when they came back home they realized that they needed to focus on another kind of business related to their common love for adventure and adrenaline-filled activities. From that moment, Frederik, Harald, and Andreas have put all their efforts into building Avidyx – a marketplace where people can advertise, find, and book extreme sports activities.
Competitive advantage
The Avydix founders conducted market research and found they had a few competitors, though there were no identical services. There were platforms for everything related to tourism and active recreation: guided tours, couchsurfing, apartment rentals, and even pet hotels. But these platforms didn't offer extreme activities for those who want to feel an adrenaline rush. This was where Avidyx would stand out: by offering a selection of extreme activities that couldn't be found on other platforms. According to market research, there was a large audience in this niche.
Design solutions
The public part for website visitors
We conceptually divided Avidyx into two parts. The aim of the public part of Avidyx's site is to give a short description of the service and attract new suppliers. UGEM made the catalog page consistent, containing tools for quick search. The activity description page offers a convenient and clear booking system and handles requests for additional services.
Design solutions
Main page
Since Avidyx is all about movement, energy, and drive, in order to create the appropriate atmosphere we placed a video of a parachuter on the first screen. We also needed to tell about Norway as much as we could through our content. We decided to show four main categories of sports activities on the main page – Earth, Water, Snow, and Air. There you can find popular tags, latest activities, and a selection of popular activities across all locations. We also placed a block with a short description of how the booking system works and included a call to action for potential suppliers.
Internal part for suppliers
UGEM also had to design the version of the app for suppliers with a few key features. Suppliers can create new activities right from their smartphones, view their booking calendars showing availability of activities, and track accepted bookings. Suppliers are also able to chat with customers directly within the app.
Activity flow
When working on the supplier part of the project, we tried to step into our users' shoes and understand how they would use this service. On the one hand, activities created by suppliers have to be detailed. But on the other hand, suppliers have to be able to create activities quickly and easily. By dividing activity creation into six steps, we simplified the interface, allowing suppliers to skip unnecessary steps, return to previous steps, and see their progress.
Supplier Dashboard
The Supplier Dashboard is where suppliers can manage information about activities, clients, and orders. In the dashboard, a supplier can do the following: - Add team members; - View overall number of booking requests in an interactive calendar or spreadsheet; - Track client activity; - Communicate with clients directly; - Customize offers to meet client requests.
Order details page
The order details page looks the same for suppliers and customers. Instead of implementing messages in a separate block, we decided to integrate messages into activities. In a nutshell, this means that customers can access recently viewed or currently viewed activities and start chatting with a supplier. We made sure to notify suppliers about new messages so they can reply to customers as quickly as possible.
Design
challenges
We always experience challenges in design projects. For Avidyx, we had to design a convenient user experience for creating activities and adjusting dates and prices. Since our clients are always on the go, we paid special attention to the mobile version of the site to make it convenient for clients to communicate with activity suppliers, see available dates, and make bookings. The mobile version of Avidyx was designed and developed simultaneously with the full web version – we never separate these two stages.
UGEM helped us develop a fully fledged competitive marketplace.
Frederik Oseberg
Avidyx, Co-Founder