A Social Network for Traders
E8 Data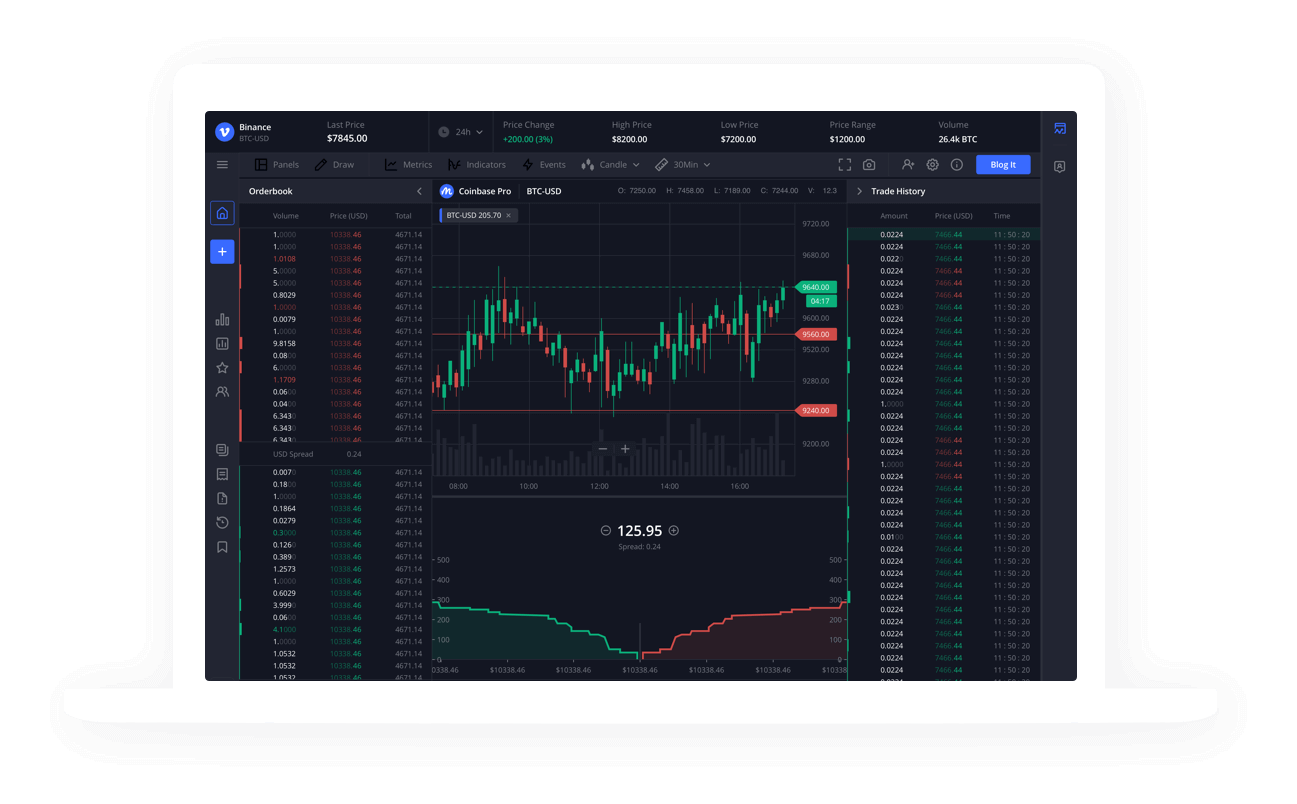 Overview
Douglas Slemmer, a co-founder of E8 Data, strived to build a charting tool that would be easier to use than existing alternatives and would provide unique capabilities for data analysis. E8 Data is a web app that provides rich data and advanced visualizations to give users the power of data scientists. The app also includes communication channels that help users exchange data and knowledge.
Douglas had in mind a complex data project with a lot of analytics tools. He turned to the UGEM team to ensure smooth navigation on the E8 Data platform and to design crypto charts that are easy to perceive and work with.
Project Profile
Target audience
Price checkers — People who own cryptocurrencies and track their prices
Traders
— People who actively buy and sell cryptocurrencies
Project timeline
8 months
Design objectives
After Douglas Slemmer contacted our team, we defined the scope of work, the project timeline, and the most vital design objectives. For this project, we needed to:
Design an intuitive UI/UX to allow users to easily create dashboards and crypto charts
Create a convenient file manager for storing analytics charts
Provide a user-friendly system for traders to exchange knowledge
Library
We created a library of components that allowed us to speed up development, maintain visual consistency, and successfully scale the product without any design discrepancies.
User Flow
We created user flows to figure out how real people would use the app from the time they open it to the time they exit. User flows help us determine the content and functionality that must be on a page. Our goal is to align user flows with users' specific goals.
Wireframes
Wireframes and prototypes visualize a user's interactions with an interface. This stage helps us review design solutions with project stakeholders, test them before implementation, and quickly make necessary amendments.
Design solutions
To reach the objectives of the project, the UGEM team came up with the following design solutions:
Intuitive and straightforward UI/UX design
Our team analyzed TradingView, Coinbase Pro, Bittrex, and many other trading systems to find and implement the best UI/UX design solutions. An uncluttered interface with only the most necessary elements visualizes complex data in a digestible way. Meanwhile, an intuitive built-in toolbar allows even inexperienced users to create charts with ease.
Convenient file manager
To allow users to smoothly manage all necessary information within the app, the UGEM team created an easy-to-use file manager called My charts. In this section of the app, users can organize crypto charts and blog posts in folders, grant access to these materials, and share files and folders with other users.
Public blogs
We created a convenient blog section to allow users to learn. Traders can find information using popular tags and bookmark posts if they want to go back to them later.
Blog editor panel
To facilitate knowledge sharing, we allowed users to easily create blog posts from any page on the platform. Users can switch between the article creation window and a dashboard with graphs in only one click. We also added floating buttons that allow users to resize windows, take snapshots, and add those snapshots to articles. The blog panel lets users share insights and trading ideas, create training materials, and help other users obtain a better understanding of the market so they can make better decisions.
Constant access to public chats with other users
The main goal of the platform is to facilitate communication between users, so the UGEM team created a sidebar with chat functionality to provide users with constant access to the trading community. No matter where users are and what interactions they have, they can use the sidebar at any time to connect to chats and get advice on cryptocurrency from other traders.
Results
Our team put a lot of effort into this project and created a design that meets all of our client's business needs. After doing a lot of research, we created a visually appealing and easy-to-use interface for both experienced traders and those who have just started their crypto journey. The product will be released soon.
Since E8 Data has a lot of complex cryptocurrency data, we needed a design team to make the app intuitive for users. We were looking for a team with experience designing similar applications. We chose UGEM design studio since they had experience in this area. We liked the flexibility and professionalism of the UGEM team. They agreed to change their usual approach in terms of design artifacts to meet our requirements and business needs. Communication between our teams was clear from the very beginning.
Douglas Slemmer
E8 Data, Co-founder