Embeddable Storefronts for Boosting Online Sales
Salespoint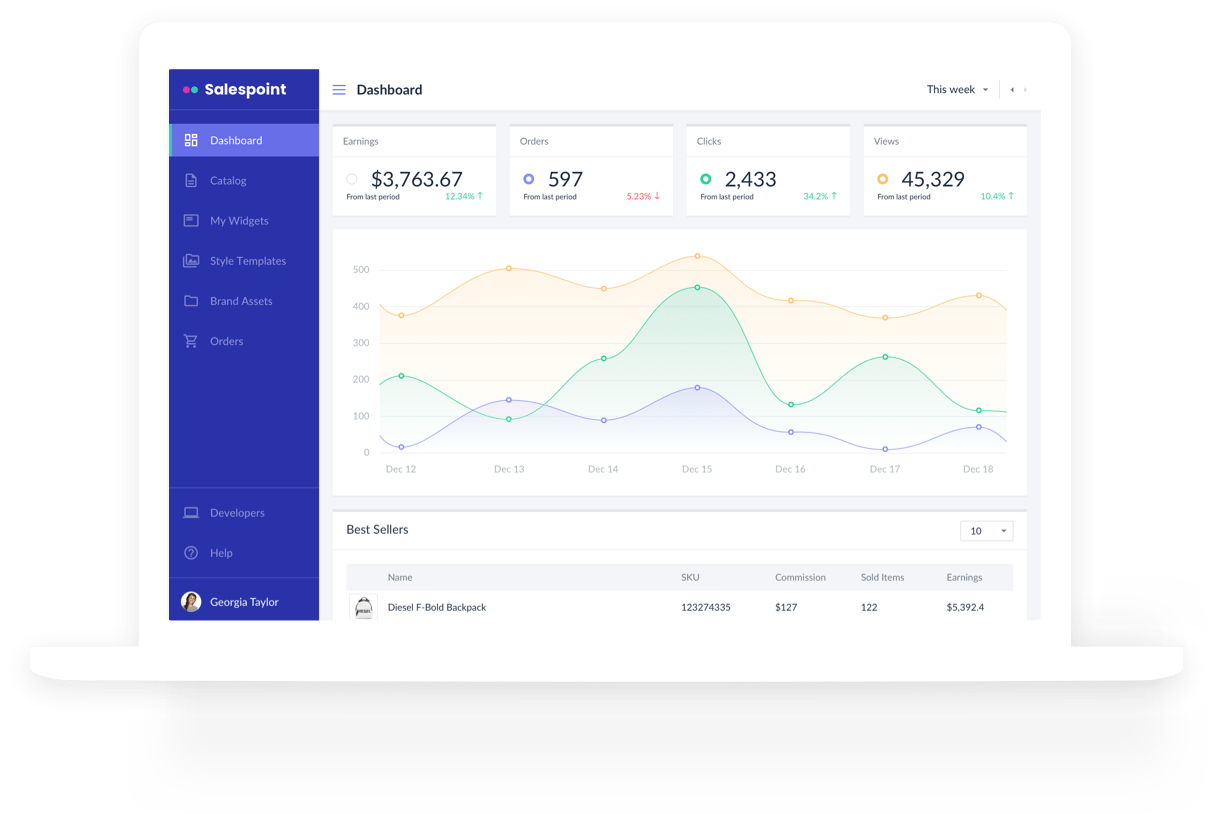 Overview
Our client asked us to design the Salespoint multi-channel selling platform with embeddable storefronts.
We designed an experience-focused, content-rich platform that reflects the brand's unique style and fulfills the product's main purpose of boosting online sales.
Project Profile
Target audience
Vendors and sellers who want access to a large network of shoppers.
Shoppers who want to find different items in one place.
Library of components
Creating a library of components allows us to speed up development, maintain visual consistency, and successfully scale a product without design discrepancies.
145

Design page

201

Components

5

Chart types
Wireframes
Wireframes and prototypes visualize the user's interactions with an interface. The wireframing stage helps us review design solutions with the project's stakeholders, test designs before implementing them, and quickly make amendments.
Seller Product Page
Seller Catalog
Seller Widgets
Design objectives
Salespoint is a multi-channel selling platform with a huge number of users and lots of data from connected online stores. Our design team had to consider carefully how to organize that data so sellers can easily configure their widgets and track all financial insights while shoppers can easily find items.
Enhancing the seller experience
Salespoint is a data-heavy platform, and it was critical to provide up-to-date data to sellers. We designed a seller dashboard that's divided into convenient blocks, allowing sellers to easily review all financial data.
Simplifying shopper navigation
Quickly finding what you're looking for is the dream of any shopper. Realizing this, we created an expanded and easy-to-use product catalog with plenty of search filters. As a result, Salespoint buyers can effortlessly find items.
Increasing sales volume
We believe a detailed and easy-to-use product overview page is the key to increasing sales. We designed a convenient product overview page that gives shoppers the power to explore all product details. Meanwhile, microinteractions make the journey lively and immersive.
Optimizing sales processes
We streamlined the sales process, allowing sellers to manage their widgets in one place. Sellers are able to create widgets, configure them, and connect them with products.
Visually appealing user interface
To strengthen the seller widget and bring out the personality of each seller, we designed a variety of appealing templates. Our style templates allow sellers to configure widget parameters like color, text style, product name, and price.
Handy order management
Salespoint sellers can easily manage all their orders in one place. Maintaining design consistency, we created an order management page that enables sellers to process orders from the marketplace.
It was a complex project in terms of its uniqueness and functionality. But UGEM met the challenge and did a really good job. As a result, we got a scalable, responsive, and intuitive platform. All of this was achieved thanks to the attention to detail and the professional approach of the UGEM team. This is a team of dedicated experts that are always ready to make suggestions and recommendations based on their own research.
Salespoint
Salespoint, Owner