A platform for selling designer phone cases
Online phone case retailer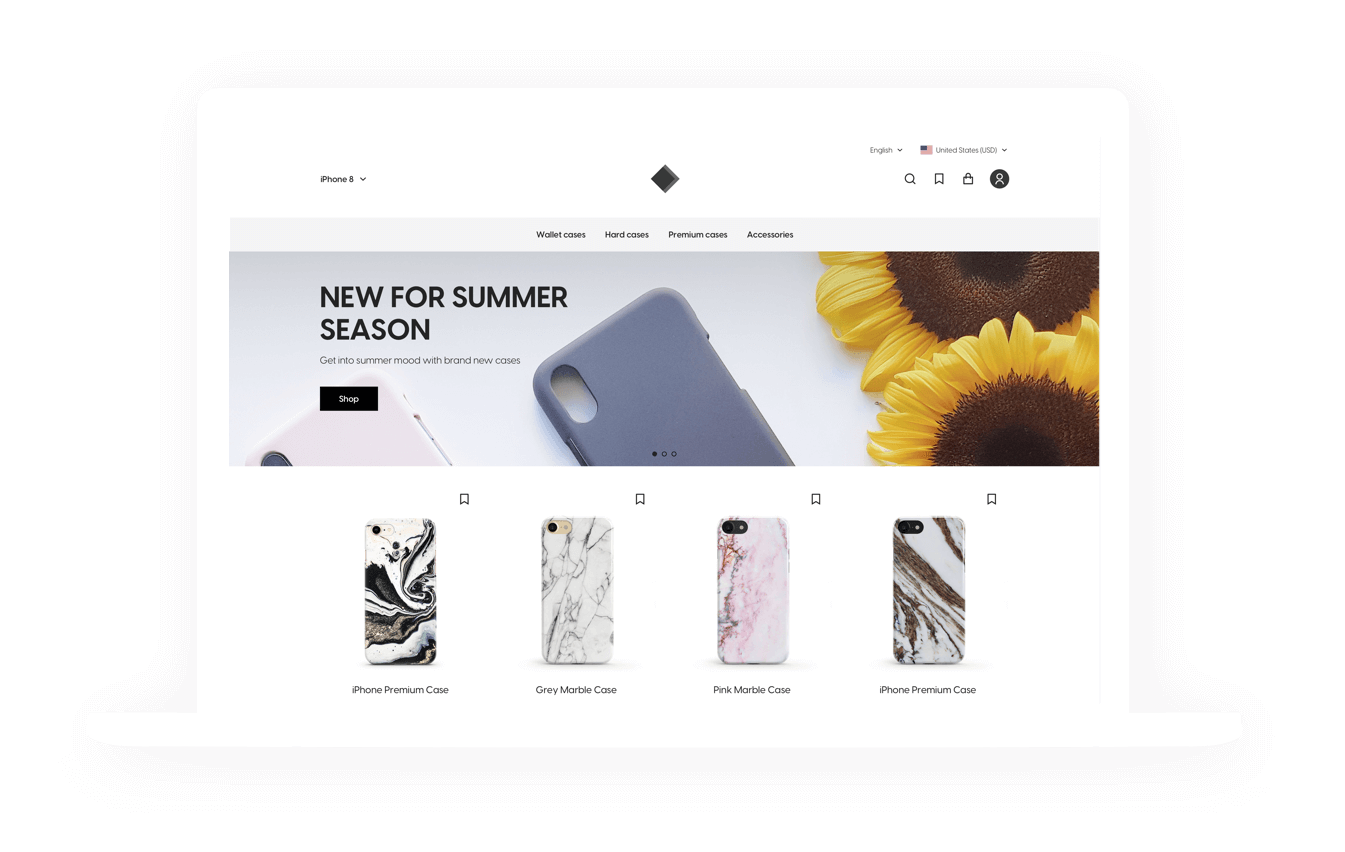 Overview
Our client, who has lots of experience in online retail, contacted the UGEM team to build a marketplace where customers would be able to easily find exclusive phone cases and where artists could share their custom designs for phone cases and sell them via the platform.
Project Profile
Target audience:
Customers looking for smartphone cases with unique prints
Designers
looking for ways to make money on their art
Project timeline:
3–4 months
Design objectives
When our client contacted our team, a website that sold phone cases already existed. However, our client decided to create another site from scratch to implement a new user role for art creators, who would be able to add unique phone case designs to the website and sell them via the new platform.
We defined the scope of work, project timeline, and most vital design objectives. For this project, we needed to:
Create a visually appealing minimalist design for a new ecommerce website so that users could focus on products
Implement the role of a creator who can add phone case designs and sell them on the platform
Come up with the necessary filtering and sorting functionality to help buyers find products fast
Create a simple yet informative product page to provide buyers with comprehensive information on a chosen phone case
We started the project with
User flows
We create user flows to figure out how real people will use your app from the time they open it to the time they exit. User flows help us determine the content and functionality that must be on a page. Our main goal is to align user flows with users' specific goals.
Wireframes
Wireframes and prototypes visualize a user's interactions with an interface. This stage helps us review design solutions with project stakeholders, test them before implementation, and quickly make necessary amendments.
Library
Creating a library of components allows us to speed up development, maintain visual consistency, and successfully scale a product without any design discrepancies.
Design solutions
To reach the objectives of the project, the UGEM team came up with the following design solutions:
Minimalist homepage
In order not to overload the homepage with design elements, we stuck to a minimalist look. Customers can see a clear line between catalog and creators' pages and concentrate on phone case designs they're interested in.
Creators' pages
Customers can visit creators' pages to look for unique case designs. To make the search process on this page more efficient, we included the most popular filters and a sort by price option.
Intuitive product catalog
To help customers narrow the choice of products available on the site, we divided all products into four logical categories: wallet cases, hard cases, premium cases, and accessories. We also added popular filters and tags to simplify the search process. If users like a case design but don't want to buy it straightaway, they can bookmark it for later.
Informative product page
To provide customers with detailed information about phone cases, each product page has several photos so customers can view each case from different angles. The UGEM team also included a product description section on each page so customers can learn about case materials and other design details.
Results
While working on this ecommerce website, the UGEM team came up with UI and UX design solutions that assure a smooth user experience. We created a minimalist design for the site, implemented an intuitive product catalog, and created informative product pages to help customers effortlessly find unique cases.
The new site has helped our client attract new customers and provided an opportunity for business growth.
Cooperation with the UGEM team was efficient. The team is dedicated, hard-working, and knowledgeable. I like their focus on end users. They look for ways to fully engage potential customers with a new design and get them to make more purchases in your online store. The UGEM team helped us to design a new two-sided platform for our business. Now we work not only with buyers but also with designers who are able to create their own phone cases and sell them on our site. We're expecting our new site to bring us massive traction several months after its release.
Founder of the platform for selling designer phone cases